Reception Updates
19/7/21 - Party
We cannot quite believe we are at the end of the year with your lovely Reception children! We would like to celebrate the year with a party tomorrow afternoon (Monday 19th July). Children can come to school in their own clothes, however, please make sure they are appropriate for the warm weather and bear in mind the children will still have access to all of our outdoor area (they may get muddy/wet). The children no longer need to bring in their reading journal, but you can continue to read over the holidays with books from home or the oxford owl e-books. We will be sending home the children's work tomorrow, can you please provide a named carrier bag to make it easier for your child to carry their things. We will finish for the year on Tuesday 20th July at 3.10. Thank you for all of your support this year.
Mrs Gayton, Mrs Lister and Mrs Stacey
________________________________________________________________________________________________________________
28/5/21 - Dress Up Day
We have made it to half-term! I am sure your children are ready for a break, as are the teachers!
Next term we will be learning all about 'People Who Help Us'. On the first day back after half-term (Monday 7th June), we would like the children to come dressed as what they would like to be when they grow up!
We will use this to help us with our learning for the week. We are also looking for people to come in and talk to the children about their job. If you or anyone you know has a job that would interest the children, please speak to your child's teacher, and we will arrange a visit.
Thank you all for your continued support.
Mrs Gayton, Mrs Lister and Mrs Stacey
________________________________________________________________________________________________________________
16.4.21
Starting on Tuesday 20th April, the Reception children will begin more formal PE lessons. In accordance with the rest of the school, children need to come to school on a Tuesday in their PE kits. PE kit is the following;
Dark/Navy tracksuit (jumper/jogging bottoms)
White t-shirt
Trainers
If you do not have this clothing for next Tuesday, please do not worry. Anything suitable for running around in, until you have the appropriate clothing is fine.
As the weather becomes warmer, children are taking off their jumpers. Can you please make sure every item of school uniform is named so that it can be returned to its owner.
Thank you,
Reception Team
______________________________________________________________________________________________________________
Milk - 17.3.21
As you may or may not be aware, the children in school are offered milk during their daily snack time. This milk is provided free from 'Cool Milk'. Unfortunately once your child turns 5, we are not provided with the free milk. On the occasions we have spare milk this is offered to the five year olds, however we know lots of children enjoy their milk. If your 5 year old still wishes to have milk you can book and pay for it on the website below.
________________________________________________________________________________________________________________
Favourite Toy w/c 15th March 2021
This week in school the children will be learning about toys from the past and toys from other cultures. To support this learning we would like the children to bring in a favourite toy to talk about. The children will place the toys in a box and will not be touched by any children. They will be sprayed with disinfectant before returning home. We will be sharing toys over 3 days and you will be sent a text informing you of the day your child can bring the toy to school. Please prepare your child to talk about the toy with information such as where they got it from, why they got it or why it is special.
Thank you,
Reception Team
________________________________________________________________________________________________________________
Reception Remote Learning
Dear Parents and Carers at home
This is certainly not what we hoped for, in your child's first year at school, but we want you to know that we are here for you. Teachers are available by email or phone every day, from 9.00 am – 3.00 pm to support you and to provide further explanation to tasks if you require it. The year group team has been separated. One is teaching critical worker children, the other is available to support you while you are delivering the learning at home.
What to expect:
| | |
| --- | --- |
| Staying connected | Teachers will send a video at the start of each day setting your child up for a day of learning, including a daily challenge |
| English: Reading and writing | Daily Phonics lesson and activity |
| Maths | Maths teaching video and follow up activity |
| Wider Curriculum | Activities will be sent over to enrich play as they work towards the early learning goals |
| Assessment and support | Teachers are expecting to receive emails and pictures of work. They will give feedback, and will be in contact with households regularly |
| Social time | You will be sent an invite to join your child's class during a weekly zoom call. This will be fun, light and a chance to keep those at home connected. Please ensure that there an adult is present at home during the call. |
We must emphasise that the most important element of the reception year at school is PLAY! So much learning naturally comes from this, and you will find that many of the activities set by the teachers encourage children to develop and learn in this way.
There is not a nationally preferred response to home learning. Some schools are providing 'live lessons' throughout the day. The leadership team has made the decision not to undertake 'live teaching'. There are various reasons for this; principally, it commits your child to particular times to be online through the day, and this is not easy to facilitate in some households, with multiple children and where technology is shared. Your support to your child can then be prioritised around other siblings in the household, and your own work requirements and family needs.
We have no idea how long this lock down will continue for and we are expecting to work in this way until February half term at the earliest. We all need to find a new routine and pay attention to our wellbeing. Teaching in this way is the preference of very few! Mrs Baillie and a member of the leadership team are available for you, if you need us. Lock down can be a lonely world.
Myself and the leadership team will add a daily hello to the class webpage to let your child/children know that they are still part of Croyland. When I need to share further information with you, it will be shared by text.
Your children working at home will by no means be forgotten.
Miss Deakin Mrs Collins
Headteacher Deputy Headteacher
Update 20.11.20
This week we are going to change how we collect in and give out reading journals and books. We are going to collect in all reading journals on a Friday and give them back to you on a Monday. This way we can change the children's reading book to ensure it is not a book they have had before. If you wish to read over the weekend, you can read books from home and write it into the journal once you receive it back.
Next week you will find your child has 2 books. One of these books is a sharing book with words. These books are repetitive and teach the children how to hold a book correctly, identify where the words are in a book and turn the pages. Your child may begin to pick up the sequence of the story and read it to you or they may use the pictures to help them. You can also read this story to your child.
You will also be given a 'sound blending book'. This book will be appropriate to the sounds your child is learning. The focus with this book is to say the sounds and 'blend' them together to read the word. This book may stay the same to allow them to become familiar with the sounds and words.
Please ask a member of the Reception team if you have any questions,
Thank you,
Mrs Gayton, Mrs Stacey and Mrs Lister
________________________________________________________________________________________________________________
Update 1.10.20
Thank you for supporting your children during their first week at school. I am sure that they will be feeling tired and ready for the weekend. The pick-up has worked really well this week, and we thank you for social distancing on the playground.
To continue to enable social distancing next week alongside the rest of the school collecting their children, we are going to end the school day at 3.05pm. Once you have collected your Reception child, we ask you to leave the school premises promptly or proceed to the collection point for older children. This should allow for the playground to be clear.
Ensure that only 1 adult comes to school for pick up and collection to reduce the number of people on our school site.
From Monday both the Henshaw road gate and the Harvey road gate will be opened at 3.00pm.
Thank you for your support during the part-time timetable, we hope you have found your children are settled and ready to start full time from Monday.
Reminder that the gates will be opened at 8.40am and the register will be taken at 8.55am
________________________________________________________________________________________________________________
UPDATE 28/09/20
We hope your children enjoyed their first longer day at school today. We have had lots of compliments from the lunch team about how well the children ate their lunch.
Be aware the children at lunchtimes have a 30 minute slot in the hall to eat. If you are sending a packed lunch with your child, please fill it with food you think they can eat in that amount of time.
To stop cross contamination of bubbles at lunchtime, please use the gate on Harvey Road to enter the school at 1.30pm. This will be opened by a member of staff just before collection time. We cannot have parents walking across our playground whilst the older children are outside for their play time. This will be for this week only.
When collecting your child from school, we ask that only one member of the family come to collect. Please also ensure you are following social distancing guidelines and stay apart from each other and school staff as much as possible. If you do have a message for the team, please stand behind the gate or alternatively email the class email addresses;
Chestnut@croylayndprimary.org.uk
Thank you for your understanding.
________________________________________________________________________________________________________________

24th September 2020
Dear Parents and Carers,
You may have heard through the news and media that the Early Years Foundation Stage Framework is changing from September 2021 for all schools. Schools could opt to be an 'Early Adopter' and begin working on this framework during this academic year.
As a reception team, we decided to take the plunge, and have been accepted as 'Early Adopters'. We are thrilled to have the opportunity to begin using the new framework, which we believe aligns with our school ethos and vision. Using the framework, we hope that children will have a greater opportunity to master the knowledge and skills required for Year 1 beyond.
Our reception curriculum has a focus on good quality, and meaningful play, where our highly skilled staff support your children in moving through the developmental stages and milestones.
I have included under this document a copy of the new Early Learning Goals. You can read the 'EYFS early adopter framework- Development Matters' by following the link below:
https://assets.publishing.service.gov.uk/government/uploads/system/uploads/attachment_data/file/914443/Development_Matters_-_Non-statutory_curriculum_guidance_for_the_early_years_foundation_stage__1_.pdf
In the final term of the year, the EYFS Profile will be completed for each child. The Profile provides parents/carers, practitioners and teachers with a well- rounded picture of a child's knowledge, understanding and abilities, as well as their attainment against the Early Learning Goals. This information will be reported to you along with regular updates from your child's class teacher throughout the academic year.
If you have any questions, please do not hesitate to contact me, or your child's class teacher through the school office.
Kind regards
Kelly Collins
Deputy Headteacher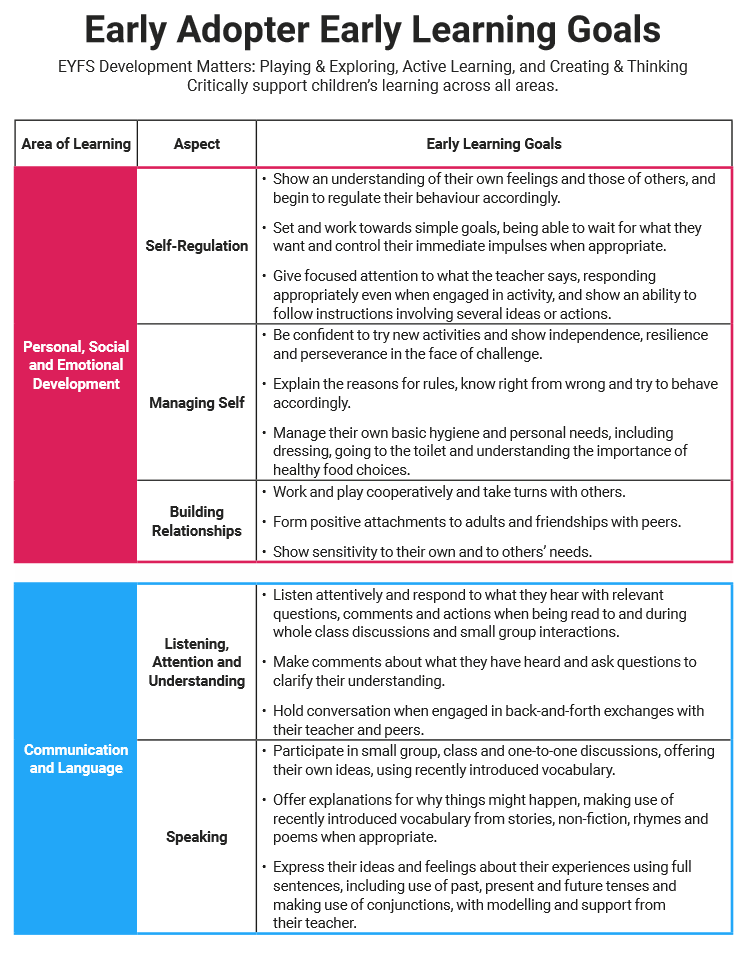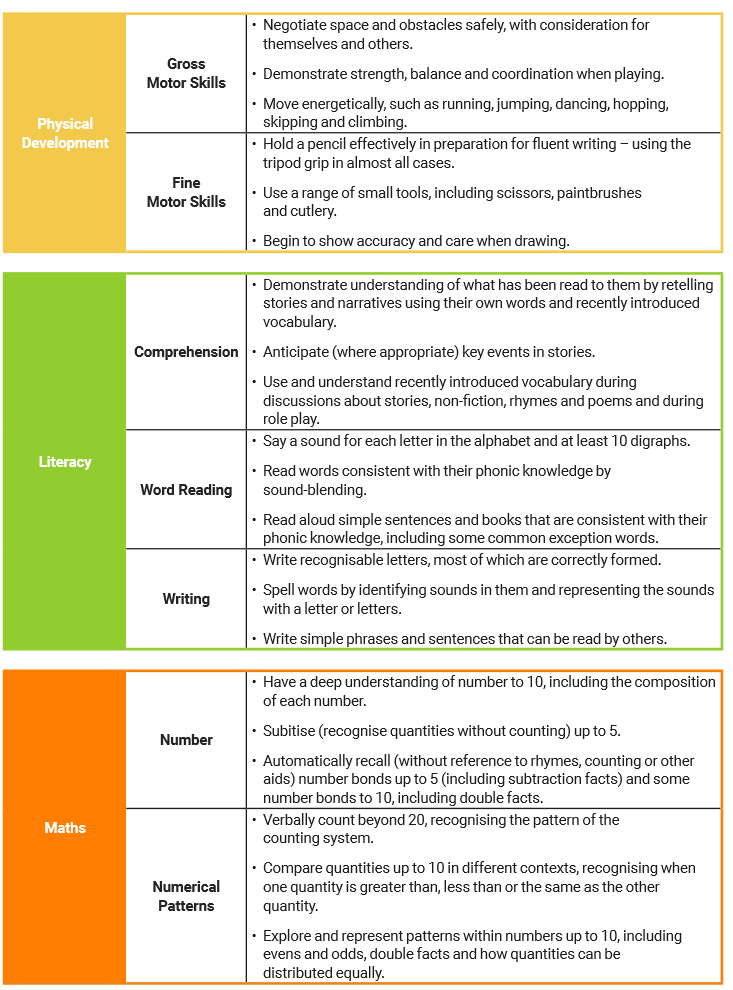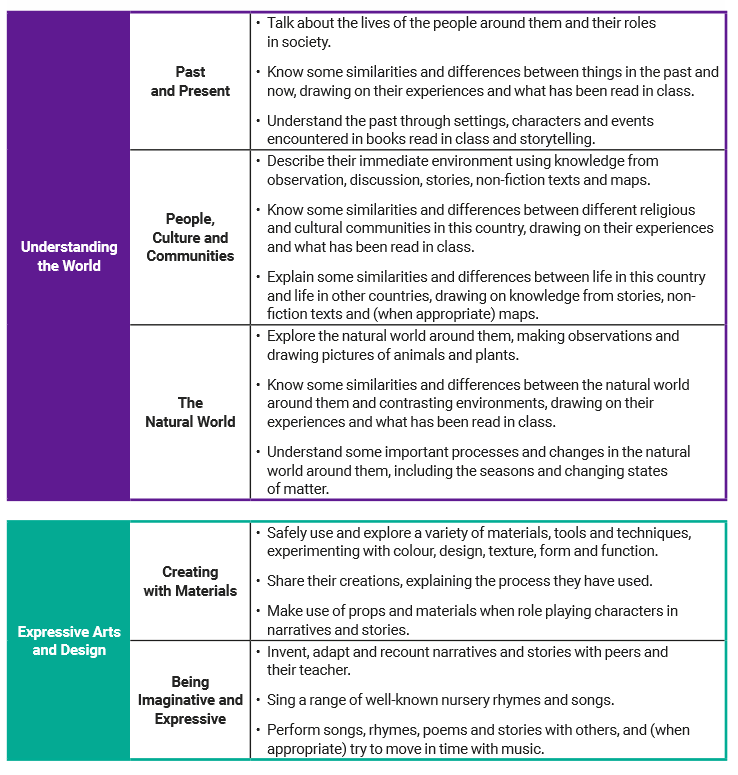 UPDATE 10/09/20
As we try to keep the different year groups safe, and reduce the risk of cross-contamination across bubbles, we now need to review our systems. At the moment there is a crossover with key stage 2 lunchtime , and the afternoon sessions for our new reception children.
If your child is currently attending for an afternoon session, please use the gate on Harvey Road to enter the school. This will be opened by a member of staff just before your drop off and collection time. We cannot have parents walking across our playground whilst the older children are outside for their play time.
Thank you for your understanding.
Please also be aware: A form and log-in details for school lunches has been tucked inside your child's reading journal. All reception and ks1 children are entitled to a free lunch, but these will need to be booked in advance.

Final preparations for your reception child's start to school
Dear parents and carers
As we draw closer to your child's first day at school, I wanted to update you on some of the actions we have taken following the most recent government guidance, and answer some questions that have arisen.
First and foremost, the EYFS team want you to know how excited they are to welcome your child to school. The team have spent many, many hours in school over the Summer holidays ensuring that our school environment complies with government guidelines, as well as ensuring that we are set up to give your child the best possible start to their schooling.
We look forward to spending some time with you and your child for the stay and play sessions. Please refer to your welcome pack for your allocated slots. Your child does not need to wear uniform for these sessions. We would ask that only one adult attends with each child. We will be asking adults and children to wash their hands on entry to school, and socially distance from other adults throughout the session. There will be no more than 7 households per class in any one slot, and we will have the outdoor space open for play with a limited number of people in the classroom at any one time.
Bring some small change with you to the stay and play. We have a number of books which we no longer require, and some pre-loved school uniform. Help yourself and pop a donation in our honesty box. We will be using any money raised to buy some new furniture for our doll's house.
Your child's first day at school will be on 9th September for either a morning or afternoon session. If you are unsure of your timings, please contact the school office.
Government guidance for EYFS differs slightly to the rest of the school in terms of safety precautions and measures. Please find below a list of measures and systems which are in place:
Class/Phase 'Bubbles'
Acorns and Chestnuts class will form their own 'bubble'. This means that these 2 classes will not mix with any other classes in school.
Drop-offs
From the 9th September, children will be collected by a member of staff from the fences at the edge of the outdoor classroom. It is important that we do not have parents congregating in this area. We would encourage only 1 parent/adult to drop off and collect to help minimise the number of adults on site.
I must also ask that if you are entering school by the Harvey Road Gate, please be respectful of our neighbours. They are of an older generation, who are vulnerable to Covid-19. By school being open, their isolation is lessened. There is no place in our school community for parking over driveways and rudeness to our neighbours.
Collection
Staff will bring children out to the fences of the outdoor classroom. Please stand back from the gate until you are called over by a member of staff.
Arrangements in school
All classrooms will be well ventilated. Teachers will plan many outdoor learning activities and therefore it is essential that the children come suitably dressed for all weather possibilities. It will not be possible, nor is it required, to enforce social distancing measures with children in EYFS. This means that children will come into contact with all the children in their class and they are likely to come into contact with all the children in the year group during outside free flow and lunchtimes. Children will wash their hands often and surfaces and equipment will be regularly sanitised.
Learning resources
Children do not need to bring their own stationery to school. Classroom based resources, such as books and games, can be used and shared within the class bubble; these will be cleaned regularly, along with all frequently touched surfaces.
Assemblies
There will be no traditional whole school or key stage assemblies during the first part of the autumn term. These will be replaced by virtual assemblies.
Enhanced cleaning regimes
Since lockdown and opening for keyworker children, our school has had enhanced cleaning systems in place and has also been regularly deep cleaned. We have adjusted our cleaning rotas with our site team to ensure that more regular cleaning goes on during the school day – with particular attention paid to those surfaces that are frequently touched like door handles. School staff not normally involved in these duties like teachers and support staff have also been helpful in keeping their own classrooms clean and extra materials have been provided for this purpose. We anticipate these arrangements will stay in place until further notice.
Coats and bags
As children have their own cloakroom facilities in their individual classrooms, coats and bags can be left in their normal places. A change of clothes in school is useful. Please keep items brought into school to a minimum as much as possible.
School Office
The school office is only open to one person at a time due to its size. If you need office support, you must wait outside until the person before you has left, or call the school and we can answer your questions over the phone. The school is closed to all school visitors except the police (or other emergency services), the school nurse and social workers
Communication
Teachers will provide you with their email address. This is purely for important information that cannot be shared quickly as you say goodbye to your child. If something is urgent and private that needs to be shared, please call the school office and a message can be taken by a member of the Senior Leadership Team.
I would like to add at this point, teachers get many emails every day. While their emails are on from the moment they step foot into school, it will not be possible for them to engage in lengthy email replies during the school day. Their priority in the morning is to ensure that everything is ready for a day of teaching. They will be in a better position to respond in detail at the end of the day.
Wrap around care
Breakfast and after school club will open on Thursday 3rd of September. Please book your child in via Mrs Kirkwood if you need this provision.
Snack, lunches and water bottles
We will provide a morning snack of fruit. From 28th September your child will be having lunch at school. Either send in a lunch from home, or book your child's lunch on ParentPay, this will be available to book from 9th September. They will be provided with a hot lunch but the choice will be less.
Please ensure that your child has a clearly labelled water bottle. This must be taken home daily.
Before your child leaves home in the morning, please check for any of the following symptoms:
• A high temperature
• A new, continuous cough
• A loss of, or change to the sense of smell or taste
If any of these symptoms are evident, do not send your child to school. Report your child's absence on 01933 224169 and report the symptom/s your child is experiencing. You must follow the government advice and arrange for a test which can be done at home or by visiting a testing centre. Please make sure you let us know of the outcome of the test results. Details of testing can be found by visiting https://www.nhs.uk/conditions/coronavirus-covid-19/testing-and-tracing/get-a-test-to-check-if-you-have-coronavirus/
We can discuss any further questions you may have during the stay and plays. We look forward to getting to know you and your child over the coming days and weeks.
Kind regards
Mrs Kelly Collins
Deputy Headteacher
This is your transition to school timetable. It is gradual to give us time to get to know you and your children in smaller groups. This will give us a good foundation for the year, and is especially important because we missed so many of our transition activities before the Summer due to lockdown restrictions.
Your time slots for the stay and play sessions, and whether your child will be attending morning or afternoon sessions for the first few weeks, is on the label on your school pack. If you are unsure, you can always phone school to check.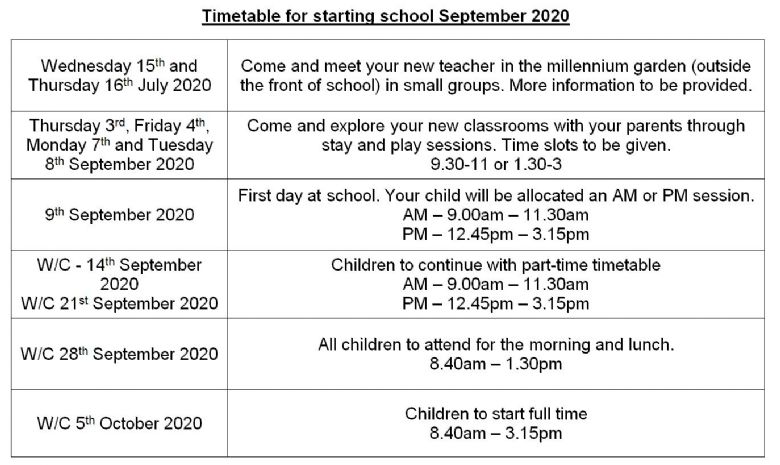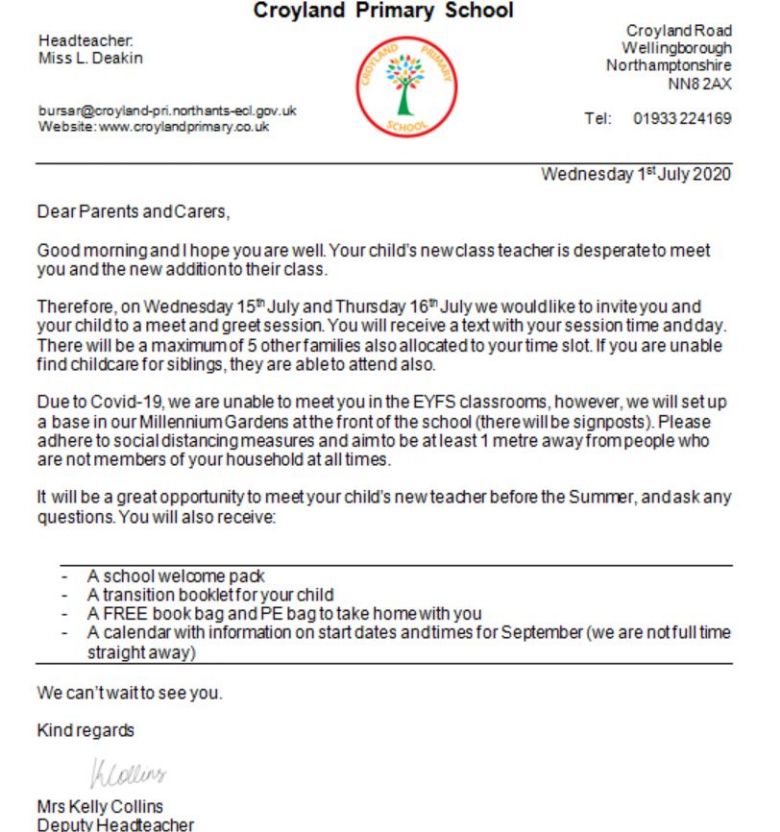 We will provide your child with a FREE book bag and PE bag. To order any other uniform, follow the instructions contained within the letter below: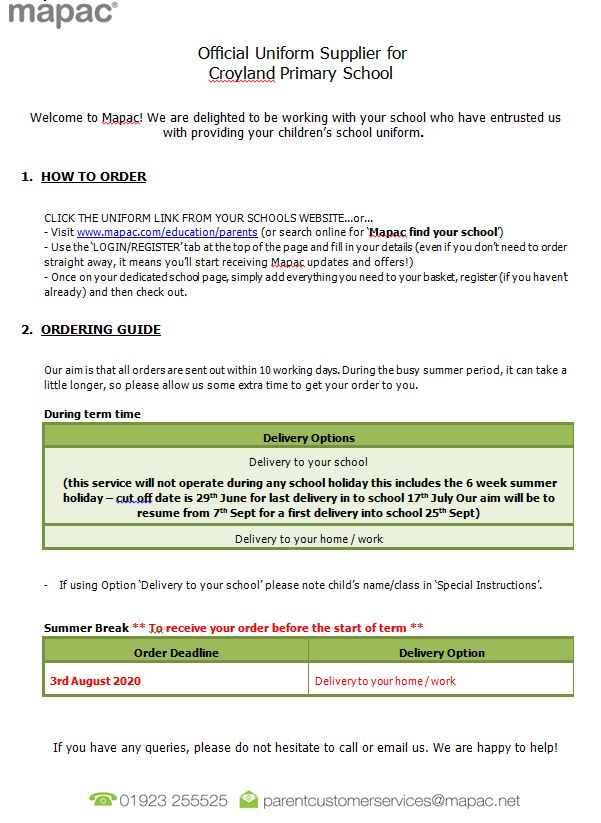 Hello to all of our new families!
Before children returned to school on 1st June, our current EYFS team made this video for you to enjoy and share with your children.