Miss Deakin/School Leaders Keeping in touch
17th July 2020
Dear All
It is an odd blog to write today. Finishing for the summer holiday when I have not seen you all. Leaders have missed you all and we are busy getting ready for September. Unless we are told otherwise, Croyland will be open for friendship and learning in September.
Your school reports have been sent out in the post. I hope they arrive today. I have read the letter on yellowish paper into an audio file so you can listen to it to and know what is happening.
It wouldn't be a Miss Deakin note if I didn't talk about an animal. I bought an outside mini camera and attached it to a tree in the garden to watch what my cat was doing at night. She didn't feature on the camera but I do have a new pet, a garden hedgehog.
Since I have realised that it was there, I have been putting food out. Ella's left over cat food – when she has not cleared her bowl!! Not too much as I want it to eat the slugs and snails that nibble on my lettuces. I am very excited about my new pet; I'm going to keep filming it and I'll keep you up to date with its exploits in September.
I think I might name him Sonic!!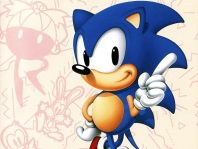 Cat food is a great option for you and your hedgehog; both dry and wet cat food.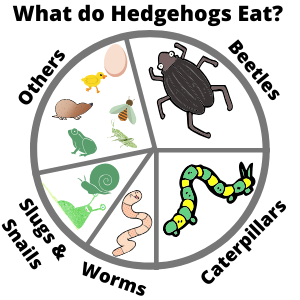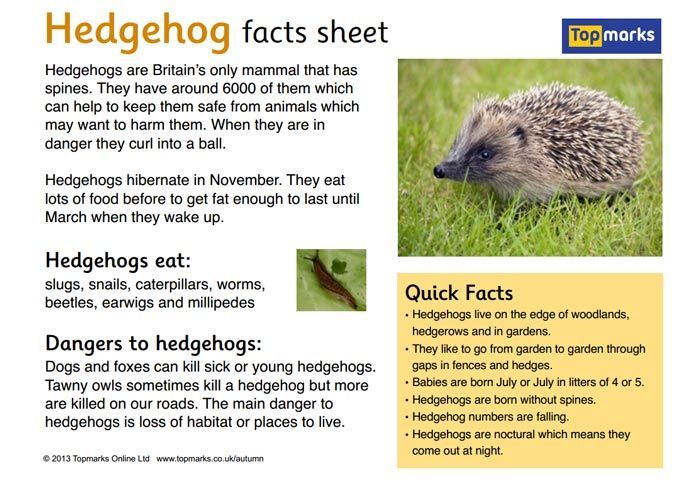 So as I say goodbye for the summer, I wish you a happy holiday; keep reading and enjoy some pj days. I'm certainly going to have some.
Miss Deakin.
15th July 2020
My last post to you all before the summer holidays. What a strange end to the Summer term. It has been lovely to have some children back, but we really have missed those children at home. We are all thinking of you everyday and can't wait to get back to a new kind of normal in September. One last thing to look at over the Summer Holidays. 50 things to do before you are 11¾. Year 6 you have less time than the younger ones! I have this poster in my office, and the book to go with it. It is from the National Trust Website.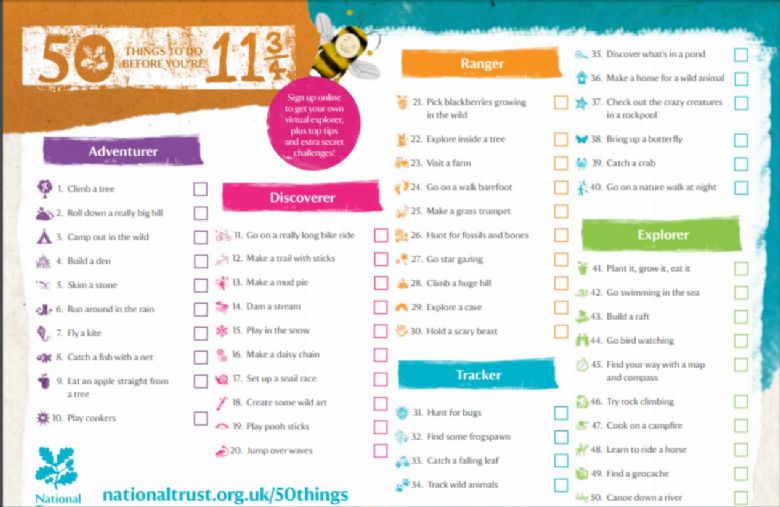 https://www.nationaltrust.org.uk/features/50-things-to-do-before-youre-11--activity-list
https://www.primarytimes.co.uk/assets/files/50%20things%20list%20pdf.pdf
How many can you tick off over the Summer holidays?
See you in 6 weeks time,
Mrs Collins J
Tuesday 14th July
Hello everyone
Well what an end to a very different academic year! I hope you all have a lovely summer break and I am looking forward to seeing you back at school in September again.
Year 6- I wish all of you a very fond farewell and all the very best as you get ready to leave Croyland and embark on your new and very exciting journey at secondary school. It's been an absolute pleasure knowing you all and I know that you will all continue to work hard and try your best at everything you do. Have fun if you are attending the festival party on Thursday!
I hope that everyone continues to take care and keep safe over the holidays and I have attached a Wellbeing Summer Challenge which you may wish to complete as a family to help. It is full of positive wellbeing activities to keep you positive and mindful over the holidays so that hopefully we can start back rested and ready to learn in September.
https://www.elsa-support.co.uk/elsa-support-summer-holiday-challenge-diary-2020/
Smiles
Mrs Toyer
Thursday 9th July
Good afternoon everyone.
Good job I have just spoken to Mr Embling today as he said how much he had been enjoying reading the weekly updates and that reminded me I hadn't done mine for today. Phew just in time !!!
I am back in school every day now, although I had a poorly Arnie on Monday after our Sunday morning walk, who managed to get grass seed stuck in his ear and needed to visit the vets. We couldn't do our walks as far this week but he is on the road to recovery as you can see.
I hope you have all been enjoying your Zoom calls with your teachers, TA's and seeing some of your friends again and despite the wet weather are still getting out and about in the fresh air.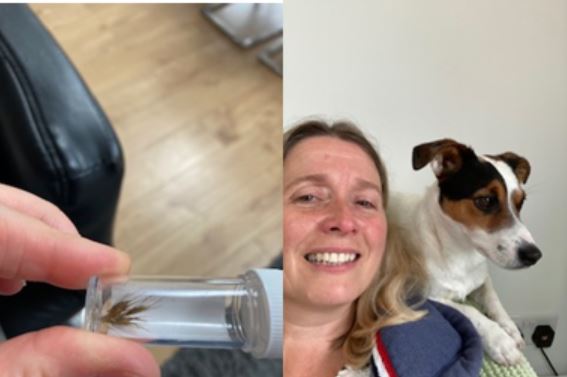 his week's activity follows on from being a mini beast detective last week.
HOW CLOSE CAN YOU GET TO THE CREATURES IN THE GARDEN?
We have to keep a distance of 2 metres from our friends and the others we meet outside at the moment. We can get much closer to the creatures in our garden and some will let us get much closer than 2 metres. But how close?
You will need paper and a pencil to record what you find.
A paint brush or something similar to brush carefully through leaves, soil over surfaces.
A measuring tape or stick of 2 metres in length.
If you have a magnifying glass, book of common birds or insects take it with you.
Go outside into an open space or garden and begin your search looking carefully everywhere. Some mini creatures will be in the undergrowth others like birds or squirrels all around you. Try to get within 2 metres of a bird. Which bird is it?
Some rules
Be very careful and gentle in your search through leaves and if turning a stone or log.
If you are handling something "Don't use your pinchy fingers or you might squash the creature."
Protect your environment.
Your hands will become very dirty so wear gardening gloves if possible or wash your hands as soon as you finish.
And what happened? What did you find?
Make a poster which shows the creatures you find with those within two metres and those outside.
You could draw a plan of your garden which shows where you found the creatures.
Find out about more about one of the creatures in books or online.
Have Fun and stay safe - Mrs Jeffs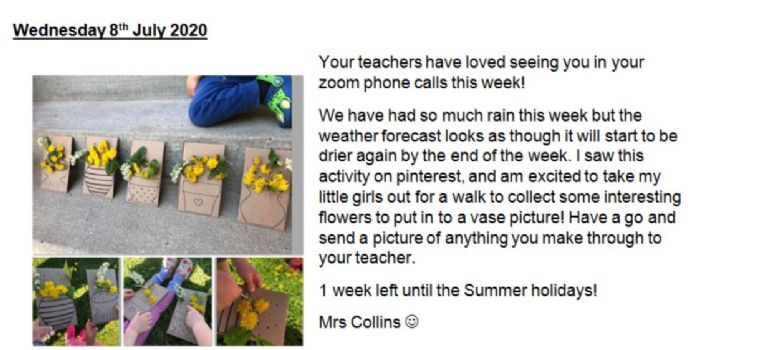 Meet the New Teachers!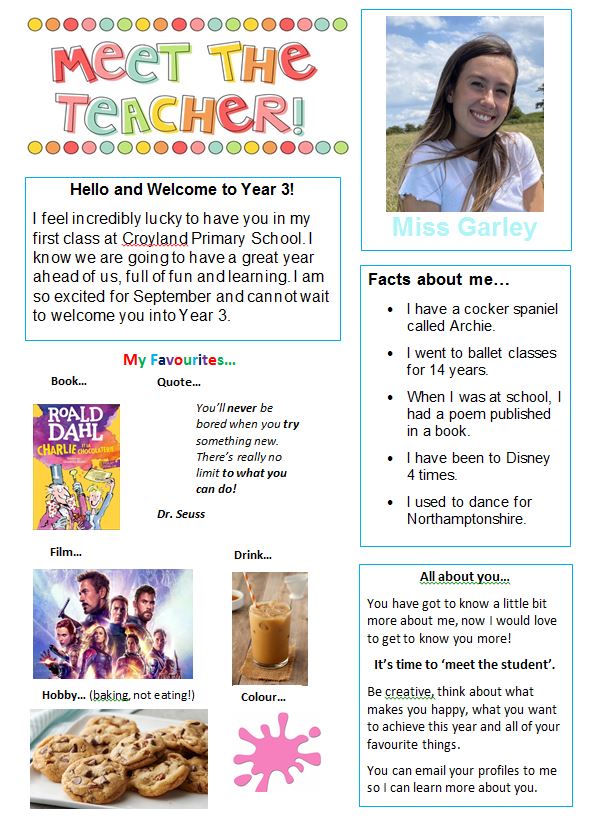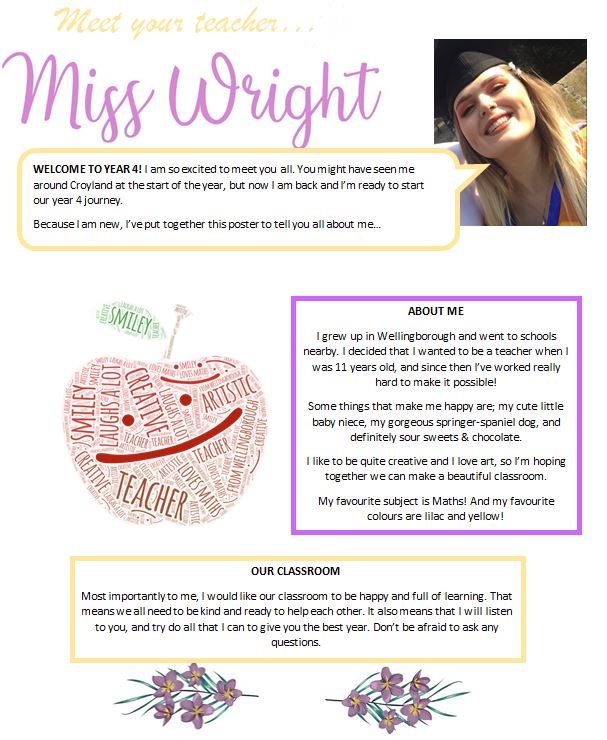 Friday 3rd July
Oh my goodness what a busy week. So busy I forgot to do my Blog yesterday!!!
It has been lovely to work from school again this week though and see lots of familiar faces.
I was inspired by Arnie again this morning on our walk (before school started) to take some photos of the amazing flowers that we passed. We love being outdoors. Last week I saw lots and lots of butterflies and this week I have seen more bees. Arnie has enjoyed looking for squirrels again!!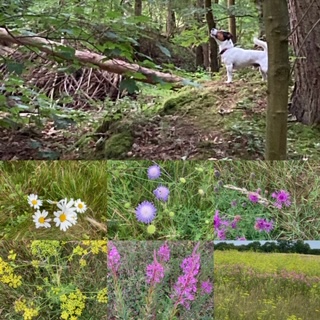 Once again I am sending activities for you to when you are out and about or in the garden.
The activities are from Naturesbase and below is a short video about how to investigate the mini beasts that live all around us. It is a great outdoor activity which enables easy social distancing. It can be done at home in a garden or in the park or on a countryside walk or in the school grounds.
Enjoy the great outdoors and being a mini beast detective
Stay Safe
Mrs Jeffs
Friday 3rd July
Dear All
I am very pleased with myself today as I past my level 2 cycle training yesterday. I completed the training with a group of Year 6 pupils. I never did it at school and I love riding my bike so I thought I should learn to do it properly. I have a nice orange badge to wear that confirms my skills!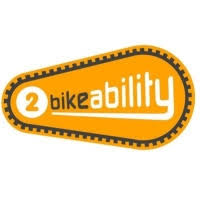 As the weather has been hot, I have been trying to keep my hens cool with different foods. They have developed a love of melon. I have made a little video to show you but they still don't have good table manners.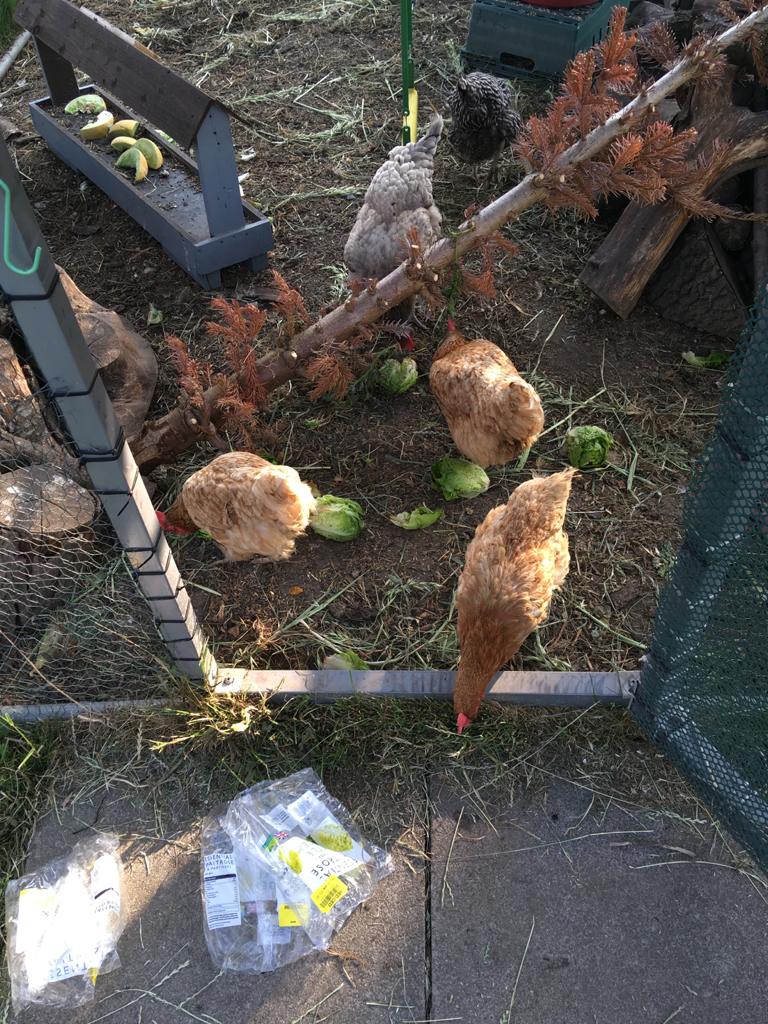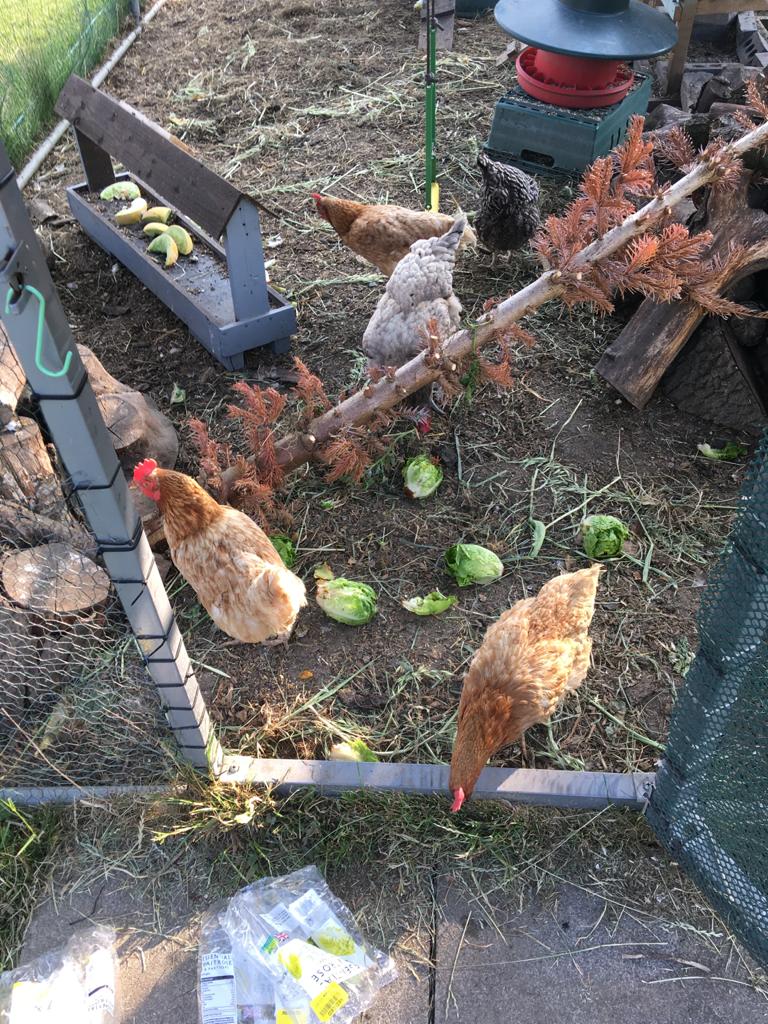 I'm so glad the government has now decided for school to open fully in September. We are all working hard to make sure we do what is right to keep you safe, but to keep our school a happy place for you to be.
Information will start to come out next week and I'm going to send it through the post with your school reports so watch out for the post man.
Miss Deakin
1st July 2020
Hello everyone!
Pinch, punch, it's the first of the month!
Not a long one from me today. I just wanted to make sure that you and your parents have seen my letter about your zoom transfer sessions with your teachers for next year and some friends from your class! We would like as many of you to get involved as possible.
If you need help setting up zoom, give school a call and one of us will talk you through it.
Your new teachers can't wait to see your faces!!!!
https://www.croylandprimary.co.uk/page/?title=Transfer+Sessions&pid=2376
Mrs Collins
Tuesday 30th June 2020
Hi everyone
Did you know that today is National Meteor Watch Day?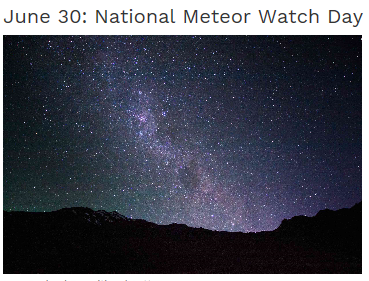 While there isn't always an opportunity to catch a shooting star in the sky, June 30 is a day for celebrating all the wonders that our moon, stars, and sky offer us on a nightly basis. Celebrate it tonight by watching the stars to close out June (fingers crossed for a clear night!)
Happy star gazing!
Smiles
Mrs Toyer
Friday 26th June
School is hot and we can't make it cool down. I hope you are enjoying the sunshine but taking good care and drinking lots of water.
When I was little, I hated water. I would only drink it with squash in it. Now water is my favourite drink; I have lovely water bottle that I take everywhere. Do you know how much water you should drink a day. These charts are a good help and also tell you why water is so good for us.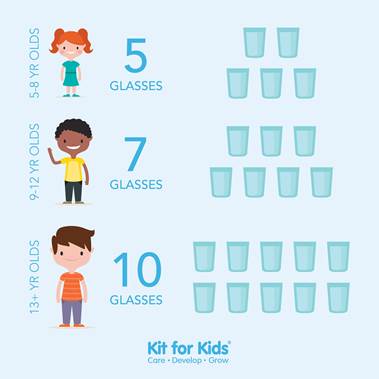 Have a lovely weekend all.
Miss Deakin
Thursday 25th June
Good morning all and what a beautiful morning it is. A very hot one though!!
I have been out and about with my dog Arnie again walking around our 'Special Place'.
Yesterday morning was so hot he found somewhere to have a quick dip.
Cheeky Boy!!!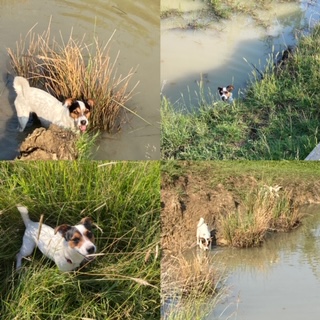 I hope you are enjoying the sunshine but remember to stay safe and follow Mrs Toyer's advice.
I have attached a lovely activity from Naturesbase again which is about your 'Special Place'.
My Special Place
Choose a special place that is going to be your spot in the garden which you can return to again and again to observe everything around you. If you do not have a garden, you could find somewhere on your daily walk.
Hopefully it will be somewhere you can touch, feel, see and smell everything around you.
On this first time try doing some of these:-
Close your eyes, what can you hear?
Look up at the sky and think of words to describe the clouds, colours, patterns that you can see.
What can you smell where you sit, closer to the ground, if you pick a handful of grass for instance?
And what surfaces can you touch?
Brush aside leaves, soil, turn over stones or logs that may be very close to you. What insects can you find?
Which creatures do not come close to you and stay away more than 2 metres? Can you name the birds?
You should take paper or a note book to record what you see. A magnifying glass if you have one to look at creatures. You could try and make up a poem about your special place
You could decorate the edge of your paper with colours from smudging grass, leaves, mud and flowers.
Finally, think of how you can mark out your Special Place.
Naturesbase Education Centre www.naturesbaseeducation.co.uk
Have Fun Mrs Jeffs
24th June 2020
Your stories are wonderful!! If you have already recorded one and would like to record another that is absolutely fine. Send it through to your teacher.
Mrs Isserlis and her daughter read theirs in the garden which I thought was lovely. There are now over 50 stories on our story page for you to enjoy.
https://www.croylandprimary.co.uk/page/?title=Story+Time&pid=2354
At school this week, we are busy organising a way for those of you at home to say hello to your new teachers. They would all really like to say hello to you before the Summer holidays.
Parents: somebody once gave me some advice for when your children are restless and maybe being argumentative and you feel at your wits end... just add water. It works most of the time!
- Run a bath and let them play - they are contained in one place!
- Fill up the sink with water and add toys or other interesting objects
- Fill up a bowl with bubbly water and let them 'wash up' (maybe just the plastic bits)
- If you are lucky enough to have an outdoor space: paddling pools, hose play, a water fight
- They may just need a drink! children often don't realise when they are becoming dehydrated and this really effects their mood.
Mrs Collins
Tuesday 23rd June 2020
Good morning everyone
It is going to be very hot and sunny this week so please remember the sun safety rules

Have a read of 'George the Sun Safe Superhero' to remind you have important it is to stay safe in the sun. You can find it in the link below: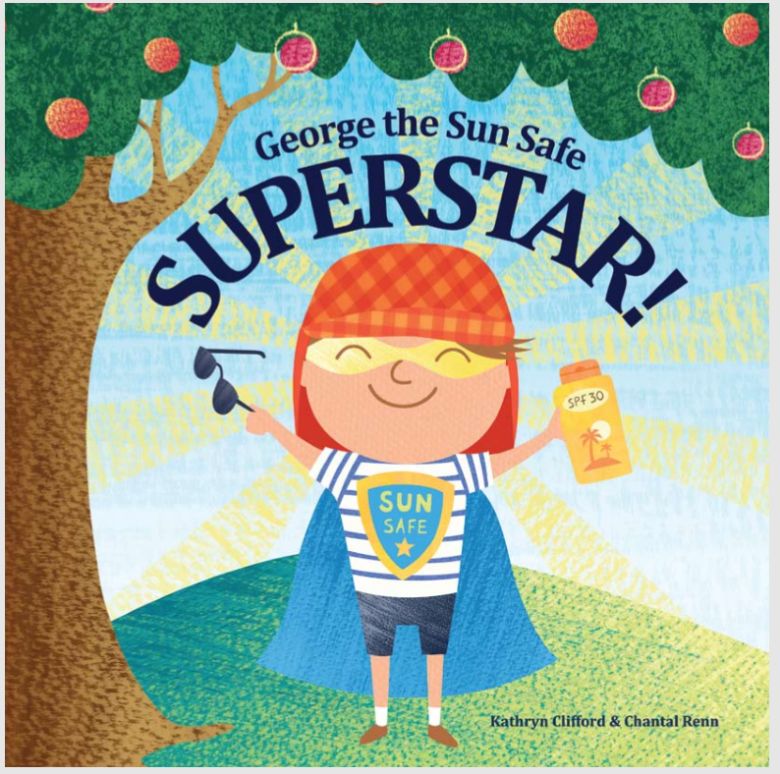 https://www.sunsafeschools.co.uk/parents/George_The_Sun_Safe_Superstar.pdf
Stay safe
Mrs Toyer
Friday 19th June
I'm cross with myself because I forgot to send Mr Sewell my post from Monday so it is nearly two weeks since I last wrote to you all.
Thank goodness for the rain. While I love planting and growing , I HATE HATE HATE watering the soil at the end of the day.
I have brought Mr Deakin a garden sprinkler for Cat Father's day on Sunday. A present for him but really a super duper tool for me. I think that is clever thinking.
Different people in my life call me the "Crazy Cat Lady". I really do agree and as you know I have a spoilt kitty called Ella. She is 17 years old on my birthday in October. I love her to bits but she is thoroughly spoilt. She rules our home!! I thought I show you some pictures of her. The one under the bench was on Wednesday night during the storm. She hates getting wet and I think she thinks this bench was put up just for her.!!
My cat really does sleep anywhere!!
Have you ever heard the poem Cats sleep anywhere? It is one of my favourites.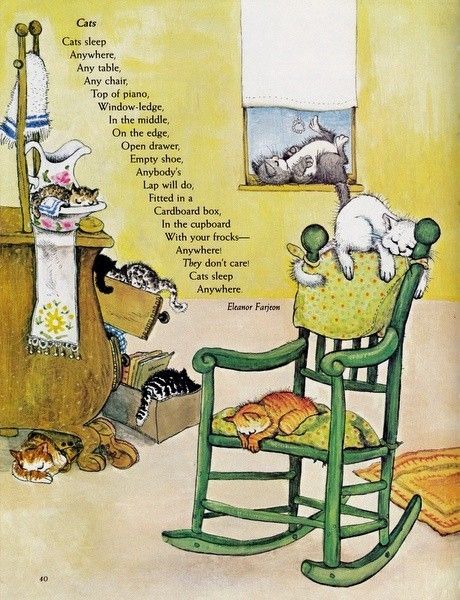 https://www.youtube.com/watch?v=g9R9QLwmJ7c
https://www.youtube.com/watch?v=9K7IDJwuYFY
I hope you like the photos of my spoilt kitty Ella.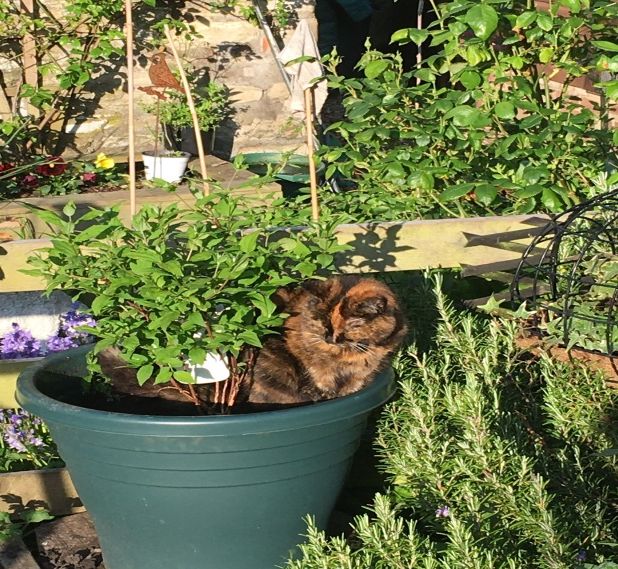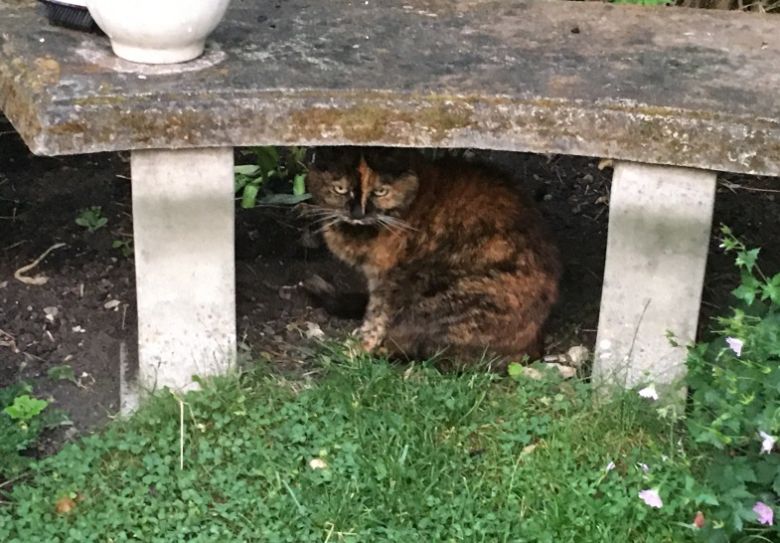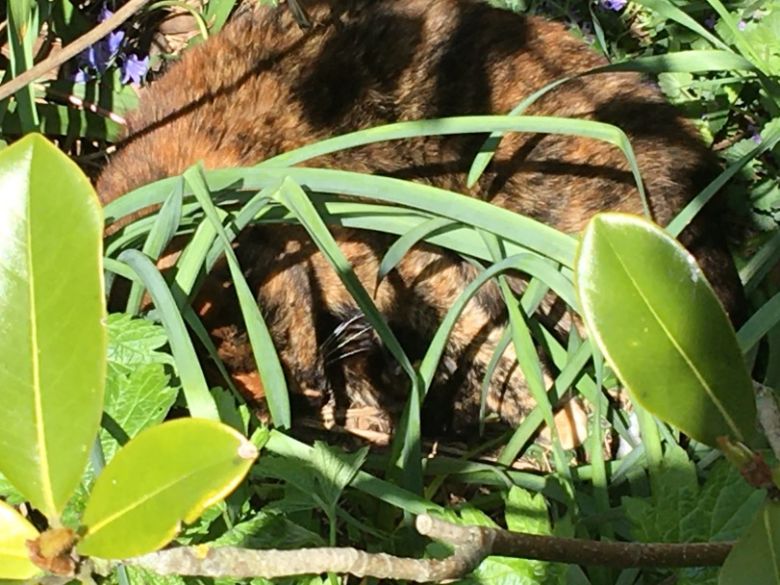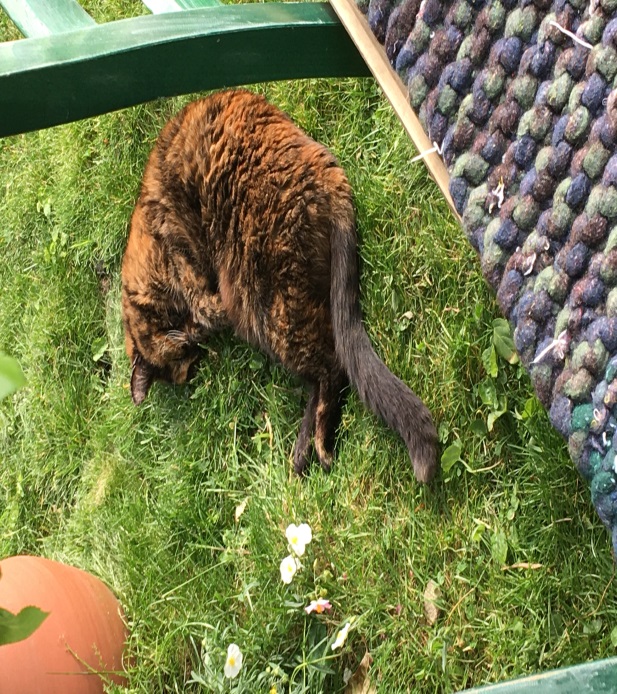 Miss Deakin.
Thursday 18th June
Good morning everyone.
What a wet couple of days we have had. Good for our plants and trees though.
Just to cheer you up I thought I would post a video of my dog Arnie acting crazy in the rain and trying to catch the enormous rain drops!!!!! Do you love to splash in the rain?
Mrs Sawford has asked me to share this with you:-
https://nurturestore.co.uk/summer-solstice-activities-for-children
On Saturday June 20th (21st) this year, it is the Summer Solstice The word solstice comes from the Latin words sol, which means sun, and sistere, which means to stand still.
The summer solstice is the longest day, when we have more hours of daylight than on any other day of the year. It's when the tilt of the Earth is most inclined towards the sun, and it marks the beginning of summer. Click on the link above and enjoy the activities.
Stay Safe
Mrs Jeffs
17th June 2020
Did you see the incredible thunderstorm last night? We watched it out of the window and counted between the thunder bangs and lightning flashes to try and work out how far away the storm was.
Thank you to the wonderful storytellers who have sent in their videos. We have loved seeing your faces and I know that your friends will haven enjoyed listening to your stories.
Please keep them coming. Ks2 children, I would love to see you reading a chapter of your favourite book, or perhaps a poem. It would be lovely to see you reading to your little brothers and sisters too.
https://www.croylandprimary.co.uk/page/?title=Story+Time&pid=2354
Mrs Collins
Tuesday 16th June
The Reading Agency's Summer Reading Challenge 2020
The Summer Reading Challenge takes place from June to September. It is run by a national charity; 'The Reading Agency'. The programme motivates children to keep them reading during the summer holidays and helps to maintain reading skills and confidence.
Children are invited to take part on-line and receive rewards for their reading.
It is easy to take part.
Children sign up at sillysquad.org.uk
They set their own challenge to read any amount of books during the challenge.
Each time they finish a book, they add it to their profile and write a review (we would love to display some of these reviews in our school library too once we all get back to school)
Families are encouraged to join in a 'Get Silly'
Children receive a downloadable certificate once they have completed their challenge.
https://summerreadingchallenge.org.uk/
Have fun!
Mrs Toyer
Thursday 11th June
Good morning everyone. I hope you are OK? I know some of you are back in school now and that is great but some of you aren't and that's OK too.
I want to send some ideas for those of you at home (or if you are at school and have time either when you get home or at the weekend).
Whilst in Lockdown I have particularly enjoyed watching birds in my garden and when I was walking my dog Arnie a few weeks ago at Twywell, I even spotted a barn owl flying about in the morning. Owls are nocturnal so I was very surprised to see it out and about. Do you know what 'nocturnal' means? Can you see the barn owl in the bottom right hand of this picture?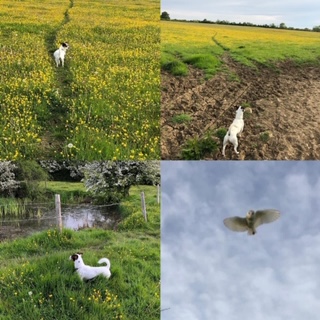 I have also enjoyed watching the birds splashing in my bird bath (especially when it has been hot) and wanted to share the activity below from the RSPB website. This gives you an idea of how to make a simple bird bath from things around your garden.
https://www.rspb.org.uk/get-involved/activities/give-nature-a-home-in-your-garden/garden-activities/maketheperfectbirdbath/?utm_=notes_on_nature_bitesize_6June&utm_medium=email&utm_content=13&utm_campaign=covid-19
There are other activities to enjoy on the RSPB website so have a go!!
Take care and stay safe
Mrs Jeffs
Wednesday 10th June 2020
Hello everybody.
I don't know about you, but I am really missing the sunny weather!
The adults in school have been keeping you entertained with stories during lockdown. Now it's over to you! Would you like to record a story for the school website for all of our school community to enjoy?
Pick 1 book, a poem, or a chapter from a longer book, and film yourself/ask an adult to film you reading.
Then ask your adult to upload the video to a secure/private youtube account and send your teacher the link. Mr Sewell will then copy the video to our own secure account. We can then publish your story to the school website!
Have a look at some of the teacher videos to inspire you.
https://www.croylandprimary.co.uk/page/?title=Story+Time&pid=2354
I can't wait to see you reading!
Mrs Collins J
**By sending a video, you consent to this being published on our school website**
Tuesday 9th June
Good morning everyone
Today is all about looking after yourself! It has been a very tricky and unusual time for all of us lately, not doing all of the normal things we are used to doing on a daily basis like going to school, meeting up with friends and seeing family, so it is really important to stay positive and look after ourselves. I have posted a well-being calendar for June with different things to do each day to help you relax and stay positive.
At the end of each week try and think about your proudest, funniest, and happiest moments; the thing that helped you relax the most and what you have achieved.
Stay positive and remember that you are all amazing!
Smiles
Mrs Toyer
Monday 8th June 2020
This morning I thought I would introduce you to a very good friend of mine - Florence. She was a head teacher in Ghana, a country in West Africa. She came to England and stayed with me and worked at Croyland for two weeks. She came in the November and it was so so cold - Africa is a hot country so we had to borrow winter clothes from everyone. I then returned to Ghana in the summer and learnt how to be a strong African lady. You will see from the photos, I wasn't very good.
When Florence stayed with me, I introduced her to fish and chips, to sweet cakes and we travelled to London. Florence had never left Ghana before so everything was an adventure.
I had never been to Africa before but I love travelling so the excitement took over the nerves I had.
There were no needs for worries or nerves on my part. I am in love with Ghana and all the Ghanaians' I have ever met are warm and kind. Despite being on the other side of the world, Florence and I text weekly; we consider her as part of our family. Florence and I will be friends for ever.
I thought I'd share some photos of my adventures in Ghana.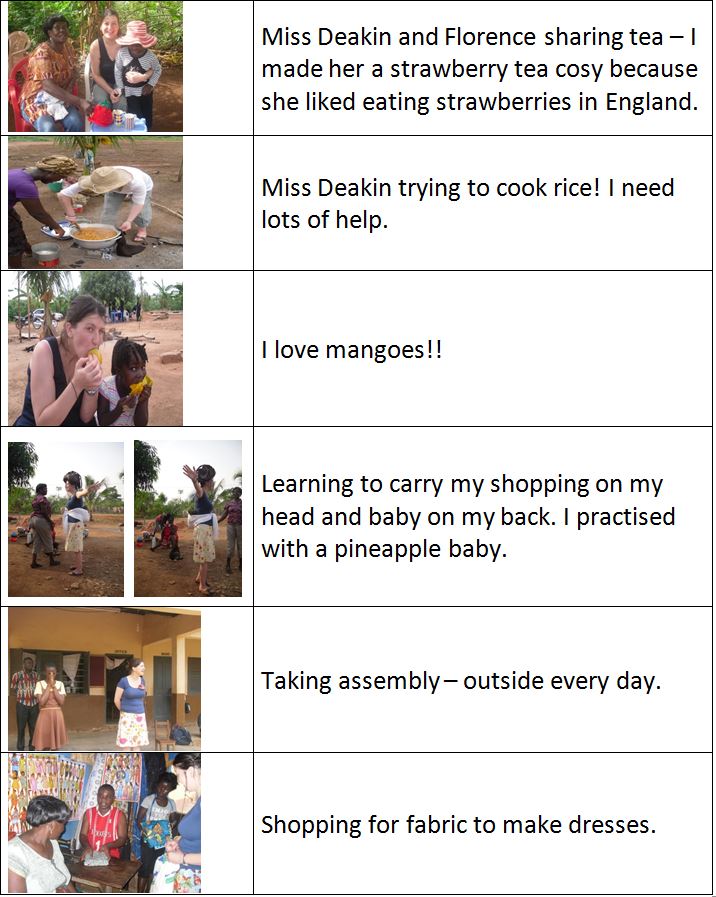 03/06/20
3rd June 2020
Good morning everybody!
I hope you are all keeping well.
As we start doing things that seem more 'normal' over the next few weeks, it has had me thinking about how strange the last few months have been. One day in the future, children, like you, will learn all about the Covid-19 pandemic and how the schools shut and the country went on lockdown.
One of the best ways to learn about events in history is to look at pictures and written accounts from people who lived through that time. We call these primary sources.
Have you and your family taken lots of pictures and videos to document this time? Have you been keeping a diary?
Before we return to our busy 'normal', now might be a good time to bring all of that together. Collect a memory box, or time capsule. If you are a computer whizz, you could make a video montage. Who knows, one day in the future children may learn all about the Covid -19 pandemic using your experiences as their primary source.
Mrs Collins
02/06/20
Tuesday 2nd June 2020
Hello everyone
I hope you all had a well-deserved rest over the half term break and enjoyed the sunshine. Lots of children are back at school this week but don't worry if you are not, the teachers are still providing lots of fun activities to keep you busy until the school can safely open for everyone.
Have a go at the summer reading challenge that I have posted below. The challenge is to see if you can complete a whole line of reading activities (lines can be vertical, horizontal or diagonal). The super challenge is to complete a full house! Good luck!
Smiles
Mrs Toyer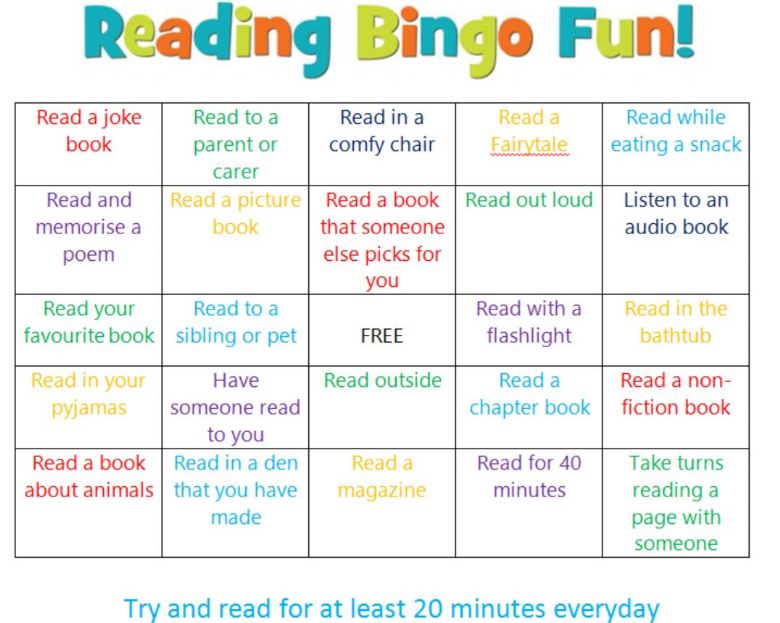 01/06/20
Monday 1st June 2020.
Good Morning All.
I hope you enjoyed the sunshine of the weekend. I did, with my laptop watching the dragon capsule take off and attach to the international space station. I was so excited to see the astronauts float into the space station; floating sounds absolutely lovely. I think it must be like swimming.
As you have probably heard in the news, Year R, 1, and 6 pupils can return to school today. We have 76 children here altogether. Croyland Primary School is a much happier place with children in it.
I have added the answers to the chocolate qui that I set before half term. How many did you get right? They all look delicious right now.
Mr and Mrs Carroll did superbly well and scored 17/20. They got stuck on 4, 5, and 7! They got their star bar and double decker mixed up!
Can you make up a quiz for teachers or your class? Send it through if you can and I will share it out.
Big smiles
Miss Deakin.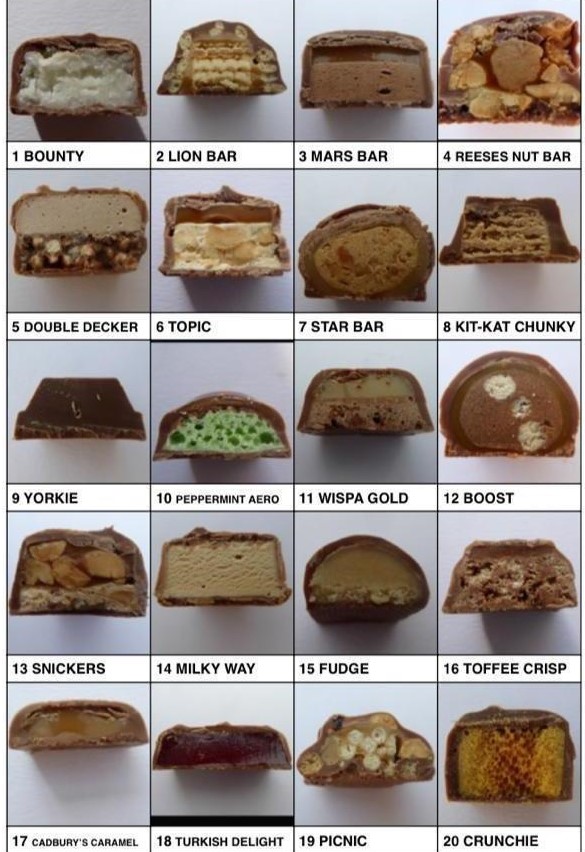 22/05/20
Friday 22nd May
Good afternoon
I can't say good morning because I am writing this at 1.17 pm. Where has my day gone? I had a lovely baked potato lunch from Miss Cath. I think I may look like a baked potato soon!
Next week is half term so we can all have a break from home learning.
I think eating lots of chocolate may be a fun thing to-do next week. I have a quiz for you and your family. How many chocolate bars can you recognise? I'll send out the answers next week.
Miss Deakin.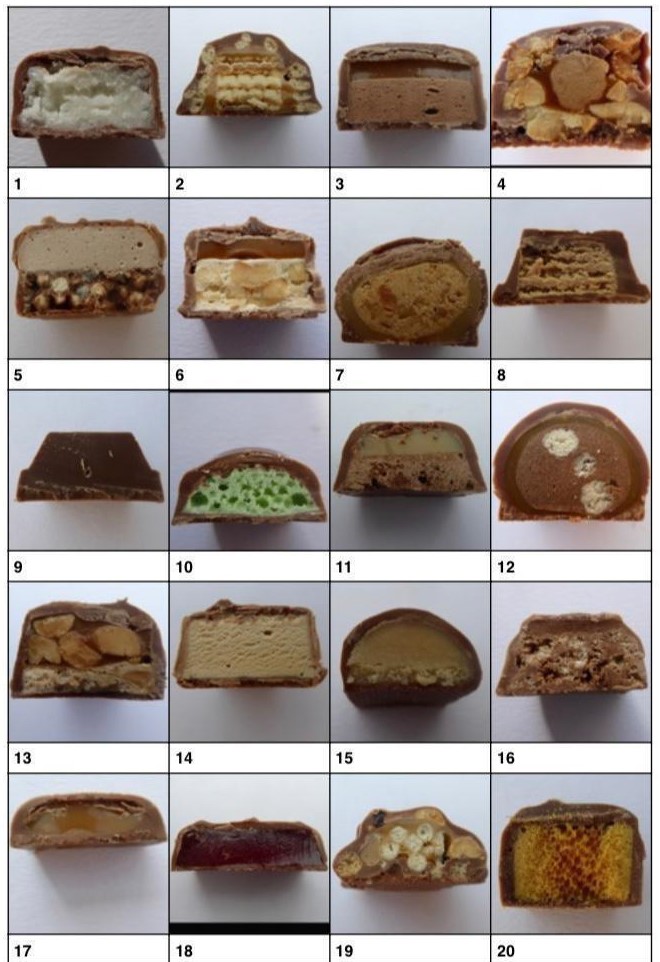 21/05/20
Good morning to you all
Hope you are keeping safe and well and enjoying the sunshine?
As promised I am sending some more ideas for activities from Naturebase.
2 activities using Art and Geography in the outdoors.
Activity 1 –Art in Landscape
Mrs Sawford and I have enjoyed sharing this activity with L'arc en ciel. The artist we decided to study was Andy Goldsworthy a British Sculpture who uses natural materials he finds to inspire his art. Recreate one of his pictures using materials you find. Click on the link below for more ideas.
https://www.youtube.com/watch?v=xP-BofDxDZg&t=77s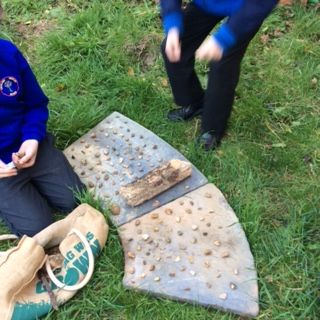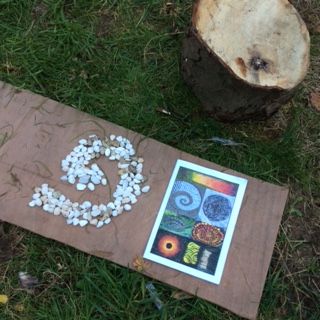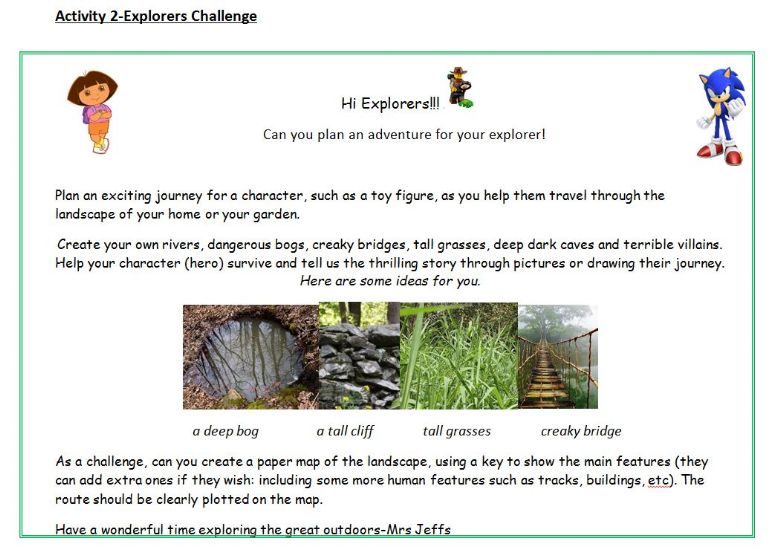 20th May 2020
Good afternoon,
Parents of reception, year 1 and year 6 children: If you haven't already, please ensure that you have read Miss Deakin's letter, and responded with your intentions should we return to school on June 1st.
Children, Mr Collins showed me this wonderful website. I was absolutely fascinated and learnt so much whilst I scrolled down! Have a look, I'm sure you will enjoy it too.
Enjoy the sunshine and have a lovely, restful half term next week.
Sending 2 metre-distanced hugs your way,
Mrs Collins
Tuesday 19th May 2020
Hello everyone
We have had an exciting arrival this week at our house! Two baby pigeons have hatched in our garden and they are so cute! We have been watching the mummy and daddy pigeon sitting on the nest for a few weeks and we finally got to meet the babies today. We have named them Archie and Harrison! Have a look at the photograph below, it's not very clear because I didn't want to get too close to them and scare them away but you can just make out two little balls of fluff sitting on our fence if you look closely.
There are so many beautiful birds around at this time of year so when you are out and about see how many different ones you can spot. Click on the link below from the RSPB if you want a bird spotter sheet to complete.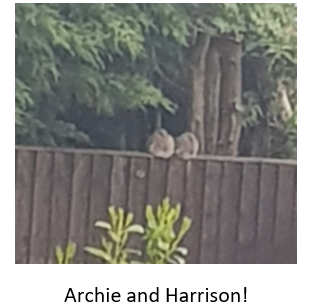 Take care and keep safe- don't forget to practise the 2m distancing challenges that Miss Deakin has set.
Smiles
Mrs Toyer
Monday 18th May 2020
Happy Monday
I have a lovely surprise in store for you this morning….
You are not the only ones busy learning at the moment. School staff have been learning new things too and practising old learning that we have had to put aside because our lives have just been so busy!!
Please keep sending me your photos of the things you can now do because you have had little more time to practise!
Enjoy and share.
Miss Deakin
Friday 15th May
Good Morning Everybody
I have been thinking about our return to school and what will help us all is if everyone has a really clear picture is their heads about what two meters looks like.
If I lie flat on the floor and measure myself, I am just less than two meters. My height is the distance that is required to be good at social distancing.
Have a good think? What else does is 2 meters in length?
I'm not sure visualising a panda or a caribou is helpful as they are rare in Wellingborough!
What can you come up with that is helpful?
Send any ideas, photos or pictures/posters through to your class teacher. I cant wait to see your two meters. The funnier the better!
Have a lovely weekend
Miss Deakin
Thursday 14th May 2020
Good morning to you all.
Another lovely morning so let's get back to nature with Naturesbase this week.
I will be posting a new activity each week that will inspire you to be outdoors.
This is one of my favourites that myself and Mrs Sawford have tried and tested both in training and with our nurture class.
Create a theme park for an ant!!!
I love Izzy's ideas on the You Tube clip.
This was the one myself and Mrs Sawford created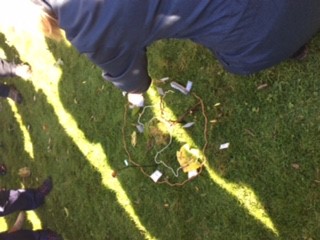 Now get creating and see what you can make.
Mrs Jeffs
A theme park for an Ant
Choose an interesting place that is going to be your spot to build a theme park in the garden or you could find somewhere on your daily walk or in the park. It needs to be about 1 m by 1m.
Have you ever been to a theme park or a fun fair? What were your favourite rides? How did you feel when you were going to the park?
Now imagine you are an Ant. Imagine what a twig stuck in the ground would be like for an Ant. It could be a tower, a ladder up to a huge slide or a flag pole. Acorn shells could be boats on a log flume and daisies could be teacup rides. There are many natural objects which could create imaginative rides and activities for ants and other insects as part of your theme park.
You will need a piece of string about two metres long with the two ends tide together forming a loop. Place this on the ground in whatever shape you like as this will be your park boundary. Find a bendy stick and create a small archway for the entrance by pushing the 2 ends into the ground. Now look around you for interesting things that you can use to design an imaginative theme park for your ant and other insects. You could also create a pathway around your park connecting each ride an activity area. Some children create a picnic area and soft play area free younger ants. The only limit to this activity is your imagination!
Naturesbase Education Centre www.naturesbaseeducation.co.uk

To Parents
This is a very simple activity but often very engaging. Children may need a little help with their imagination at the start but once they get going it can last for up to an hour on a sunny day.
Note: Please make sure there is no litter or dog mess nearby.
Here is a little girl explaining her theme park:
Wednesday 13th May 2020
Hello everybody.
I am really missing assemblies. Seeing you all together in one room is always one of my favourite parts of the week.
You can join in with a national 'assembly' on a Thursday here:
https://www.thenational.academy/assembly#
Last week included a Lion King sing-a-long with the West End Cast! I really enjoyed this!
Everyone at school is working tirelessly to make plans for you to return safely. Your parents will be hearing from us shortly as we get all of this organised. In the meantime, keep up with your home learning and stay in contact with your class teachers through email.
Keep safe
Mrs Collins :)
Tuesday 12th May 2020
Good morning
I hope you are all well and enjoyed the bank holiday celebrating the 75th anniversary of VE day. My boys made some bunting for our front window and we had a go at making some scones with jam and cream to celebrate the occasion. They were yummy!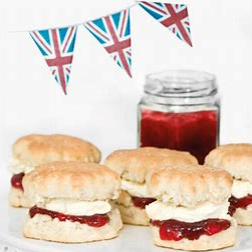 Today is a really special day as it is 'International Nurses Day' and also marks the anniversary of Florence Nightingale's birthday, who would have been 200 years old today.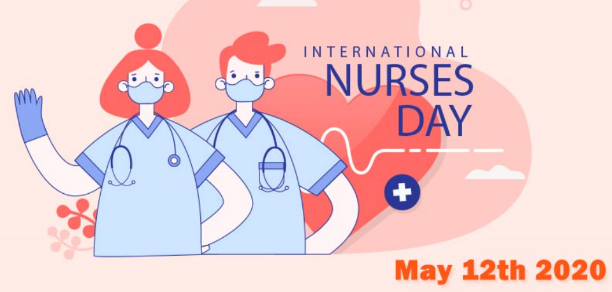 To mark the event, nursing leaders have asked us to 'shine a light' from a window at 8.30pm tonight to thank all those who have followed in Florence Nightingale's footsteps and are working hard in our hospitals in the fight against coronavirus.
I am going to find a torch ready for tonight and shine it out of my window and think of all the NHS workers that are working hard saving lives and making people feel better.
Stay safe and take care
Mrs Toyer
Monday 11th May 2020
Where has the sun gone? I'm sitting in my office all wrapped up. Yesterday I packed away my winter school clothes. I think that was a big mistake. I enjoyed the sunshine on Saturday and I practised my wood work by making a bench out of a wooden pallet. I'm taking picture of it to add it to our "We have learnt a new skill board". There are pictures up already of children cooking, fastening their coats, exploring and learning about nature, learning to ride a bike without stabiliser. It puts smile on my face every day, Send your photo to you class teacher and they will send it on to me.
I have asked your teachers to share their new skills with you; it is a learning time for us all.
Our Prime Minister spoke yesterday and we are not able to return to school yet. I am following the news carefully to make sure that when we can, everyone, including grownups can be here safely. You will have your role to play in this too but for the moment we have to wait.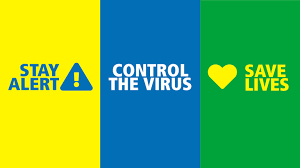 Miss Deakin
Friday 8th May 2020
Dear All,
This is my achievement of the last two weeks. I have been training the hens to move between their pens as a group. I'd start off ok then they would split up and I'd be running all over the allotment trying to regroup them
Meal worms or rather bribery has been my successful strategy. I'm ever so proud of myself.
I'm so enjoying receiving your pictures of the new skills you are learning. I am putting them up on the board outside Mrs Collin's office.
Have a lovely weekend all; remember to take care in the sunshine; "slip, slap, slop"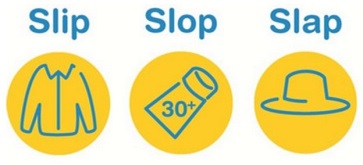 Miss Deakin
Thursday 7th May
Hi all
So preparations are under way for tomorrow's VE celebrations in our house.
My children have started making food for the afternoon tea. Max is showing off his Rocky Road (after taking a sneaky bite)
We have received our invitation to attend a 'socially distancing' street party.
It starts with a 2 minute's silence at 11am then afternoon tea at 4pm. We will also be watching Churchill's speech at 3pm and the Queen's speech around 9pm followed by singing We'll Meet Again.
Are you or anyone you know planning anything? Perhaps you could join in with the 2 minute's silence at 11am to show respect for those that sacrificed so much for us in World War II.
We will be making some decorations and more cakes later on today? I can't wait we will be making carrot cake and scones and sandwiches.
What is your favourite party food? Will you be making anything?
Whatever you are doing tomorrow however big or small have a wonderful day. It is just lovely to know that it joins us together although we are apart!!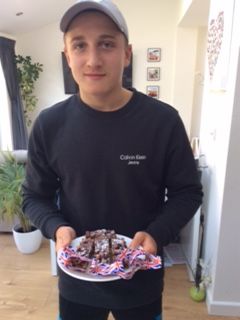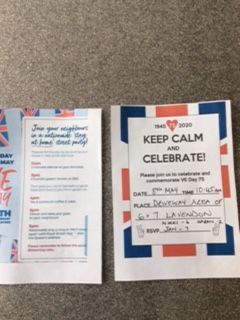 Wednesday 6th May 2020
Hello all
This Friday marks VE Day, when the country will commemorate the 75th anniversary of the end of fighting in Europe during the Second World War. May 8th, 1945, was the date Britain and its Allies celebrated the defeat of the Nazi regime after Germany signed its unconditional surrender on May 7th.
Wartime Prime Minister Winston Churchill declared May 8th a public holiday and Victory in Europe (VE) Day was met with parties, dancing and singing in the streets. This year's May Day bank holiday was switched from Monday May 4 to Friday May 8 to allow for a long weekend of 75th anniversary commemorations.
My children are going to decorate some bunting today to put up in our windows. Our village is celebrating with a 'stay at home' street party. You could have a picnic in your front garden if you are lucky enough to have one. If not, I always find getting a blanket out and having a picnic on the living room floor just as fun!
How about baking some 1940's inspired food (scones are my favourite!)? You could even start a new TikTok craze and learn the popular 1940's dance, the 'Lindy Hop'.
Whatever you do, take some time on Friday to think about those brave people who sacrificed so much during World War 2 so that we could all be here today.
Mrs Collins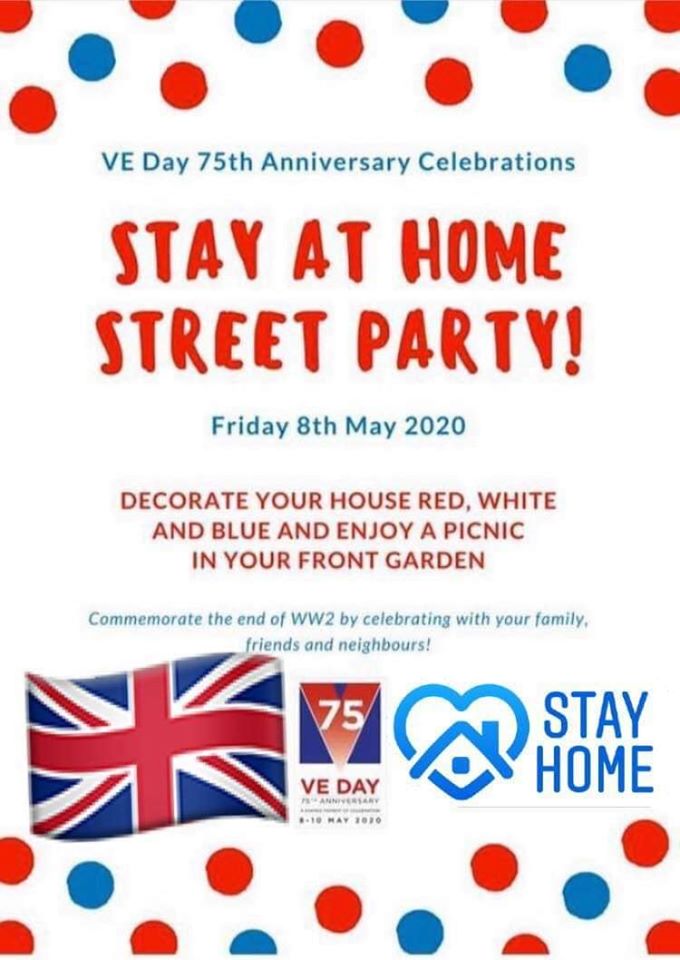 Tuesday 5th May 2020
Good Morning
What a week! Decorating, gardening, baking and starring in a music video! I hope you all enjoyed the video, it was lots of fun to make and lovely to see lots of my friends that I haven't seen for a while. A big well done to Miss Carr who put all our crazy singing and dancing together.
Today my boys and I are having a rest from screen time which means no computer or TV for a whole day! Why don't you see if you can have a non-screen day too and have a go at learning something new or have a go at some of the activities in the link below?
Have fun and take care
Mrs Toyer
Non Screen activities you can do at home.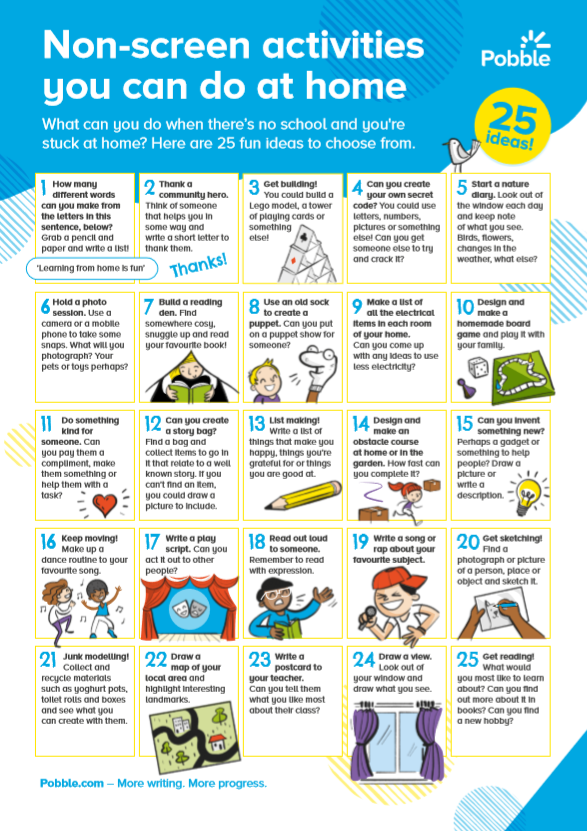 Monday 4th May 2020
Well my favourite children. Mrs Carr wanted a special project that shows you how much we miss and care about you all so we have all been dancing in funny places with our animals and babies. She has created "the C factor winners song!" She didn't force anybody to take part so if you don't see those adults who are special to you, it is not because they don't miss you, but rather that they are a little camera shy.
We have changed the home learning projects this week to focus more on real life learning. I hope you enjoy them. Please send me a photo of the real life learning you are up to. This weekend I was taught how to put the chain back on my bike. Next it is how to mend a puncture. That will be a toughie.
Let your teachers know if you enjoy our performance - X factor scores please!
Miss Deakin
Friday 1st May
What a lovely sight yesterday after a grey day. Thankfully all looks brighter today. As you saw earlier this week i have been learning wood work! I still have all my fingers. What have you learnt to do this week that is completly new - not school work but a new skill.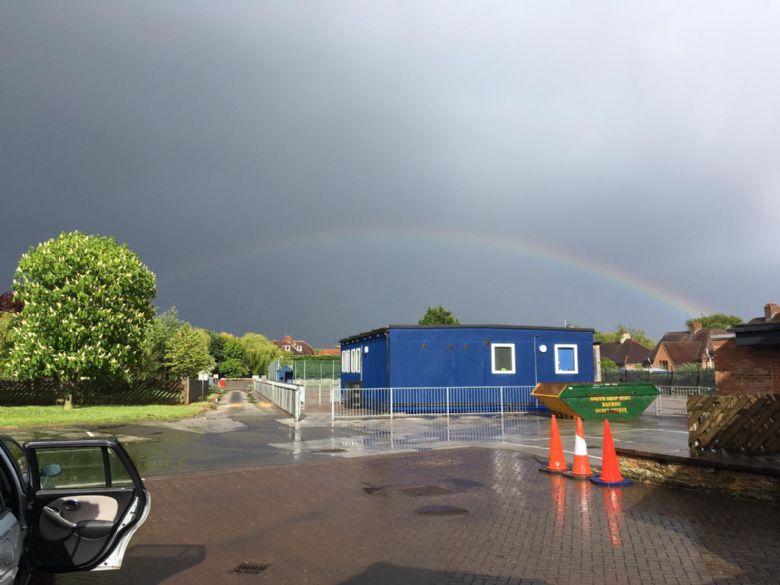 Send me a picture via our class teacher!
I can't wait to see how clever you all are.
Miss Deakin.
Thursday 30th April
Good morning my lovelies. Sending you all lots of positive vibes.
Beautiful walk again this morning before I start my work from home.
Look at all the wonderful things I spotted on my walk!!
I hope You are spotting lots of wonderful things if you are able to go out.
My son Max isn't allowed out at the moment but he enjoys looking at the pictures. I hope you do too.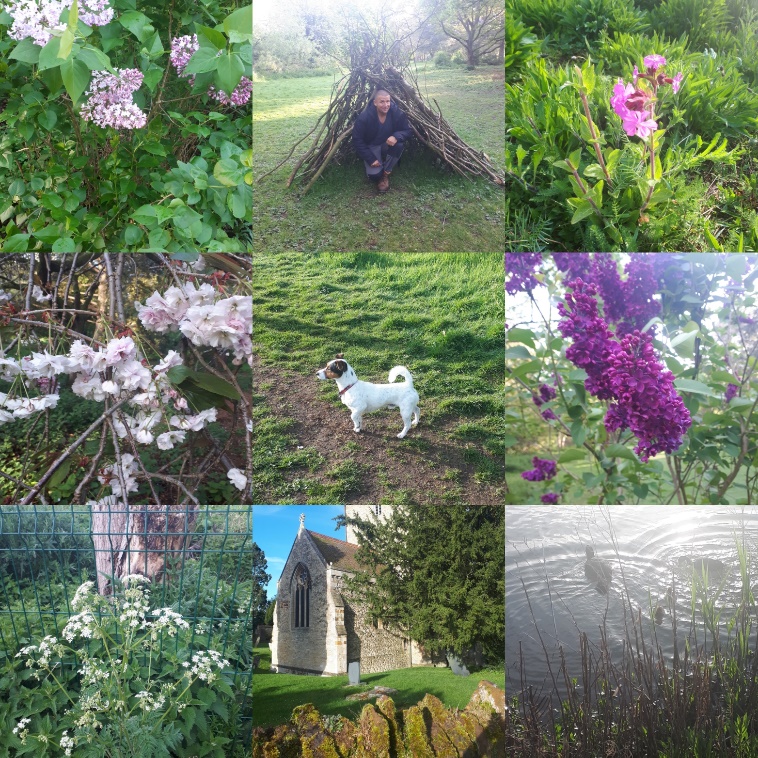 Today I am going to attach 2 activities. One for if you can't get out and about and one if you can. Hope you have fun. I am missing you all lots and lots every day. Stay Safe.
Flower spotters guide can be found at bottom of page as an attachment.
Mrs Jeffs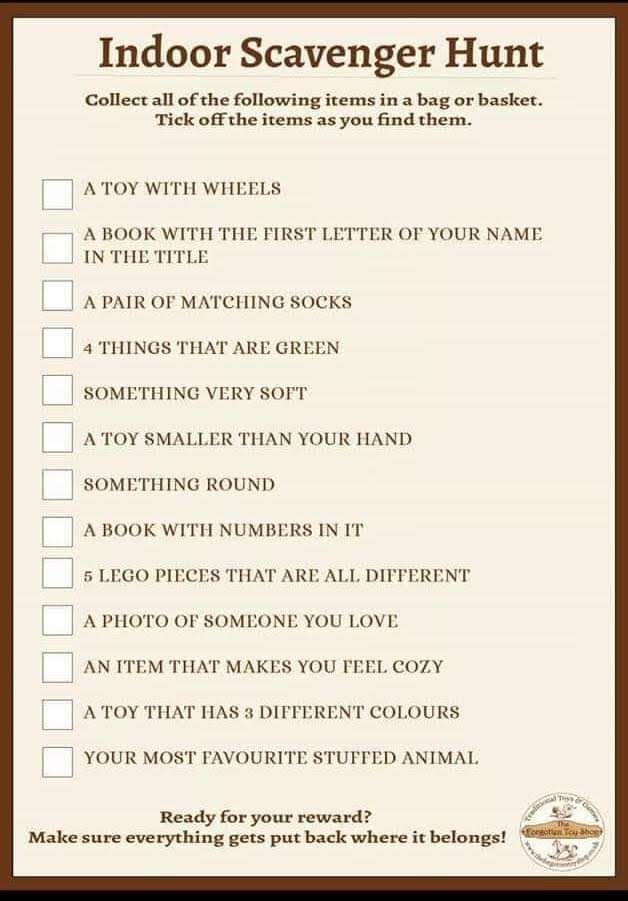 28th April 2020
Hello all.
Children: I hope you are keeping busy and enjoying the challenges and home learning that the teachers are setting you.
Parents and carers: If you are on Facebook, 'Like' the Wellingborough Library Plus Page. They update an album (link below) daily with craft activities that can be completed using bits you have lying around the house. Most of the crafts do not require too much artistic talent from the helping adult (speaking from personal experience!). In our house yesterday we made paper dolls, and tomorrow we are printing toilet roll flowers!
If you are struggling with resources, or with anything for that matter, PLEASE contact your child's class teacher. We may be able to help you along.
Stay safe,
Mrs Collins
https://www.facebook.com/pg/wellingboroughlibrary/photos/?tab=album&album_id=2232755333494297&__xts__%5B0%5D=68.ARAZ-4nWSe-PzxA1Flq2exMrEwLzOhYCnl1Eaa-ay_wujPXVCjuLzOdgGairBxsfVD00Xb2GGIk-8JjDYNeaYu8LJCFeu80b4bYG6NrjFNvbNwcLr-ijdalQA-UFMIQwW9jkG1LqbFTUibyWf_szBHAylZRC7Yp4gBC39fxrSDfbmQIYSjUlzBmCIwinvOv5wYsv88vPqldAbxe8M7Du7tZm5DuH6vKwLMb8DEiSg1fs1DYaN2tlnkSOrIrblXX7zBOQYrfuXDTBYUqanynMgeJhFLOrRMeXF-uPY2M2SZqouyWcrx2LUe2vESR3naJEhg9A8iBMMubdpWsJLib_BmFe7A&__tn__=-UC-R
Tuesday 28th April 2020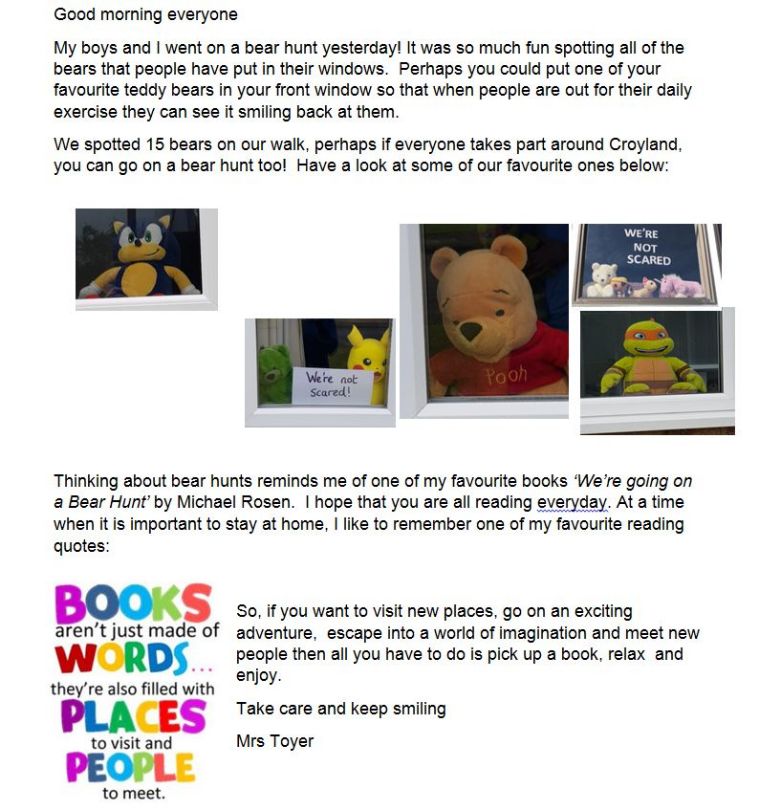 Monday 27th April 2020
I woke up on Saturday and went up to see the hens on my allotment in my fleece and gloves. I was so cold. I can't believe how beautiful the weather was from lunchtime onwards.
I busied myself with the wood work and made a second roosting box. I painted it green and added bunting. I love it but my girls haven't laid in it yet. What do you think?
They are thankfully settling well – one brown one is still a bully hen but she is learning that behaving like that means no sweetcorn or meal worms. I have to be tough with her!
I hope you like our picture montage. Miss Berwick worked on it. Miss Carr is now working on another project. I think it involves us singing and dancing! We are all a little scared.
If you need anything – please email your teacher. They keep in touch with Mrs Collins, Mrs Jeffs and me every day and we will do what we can to help you and your family.
Miss Deakin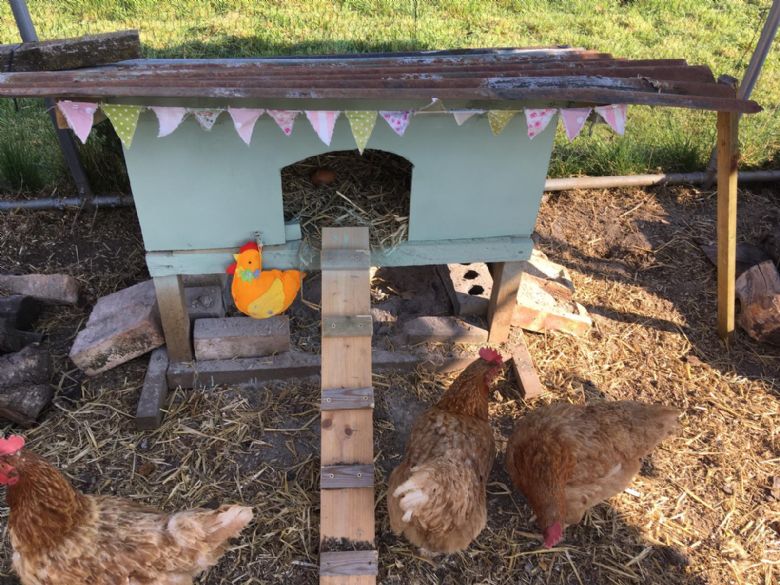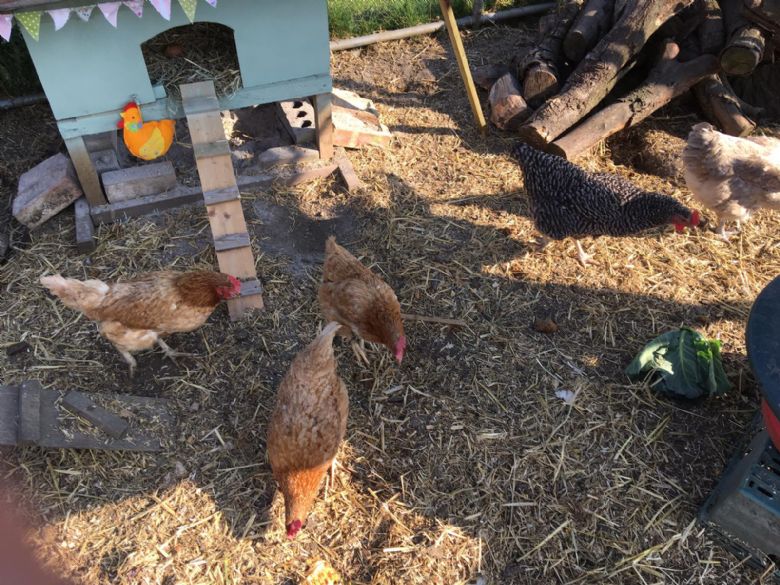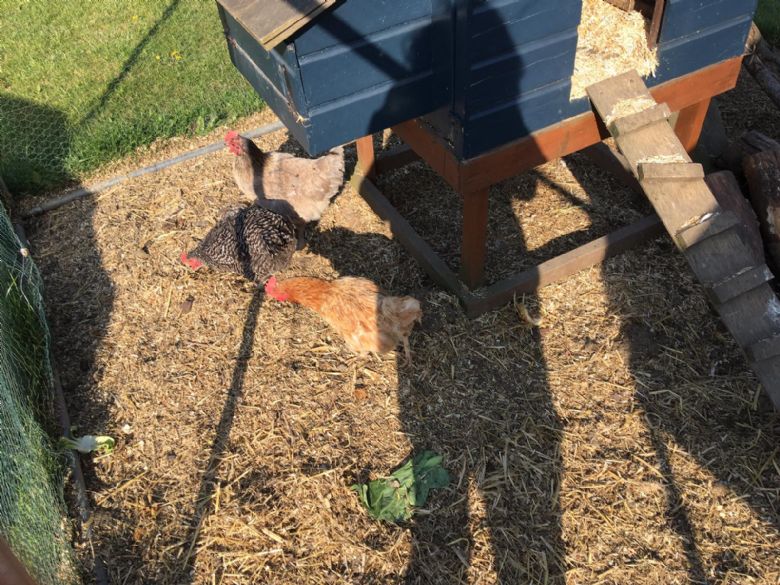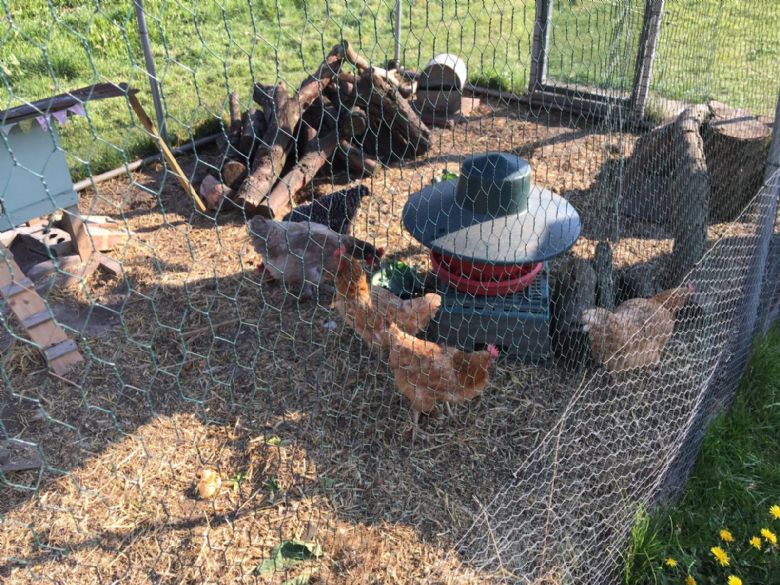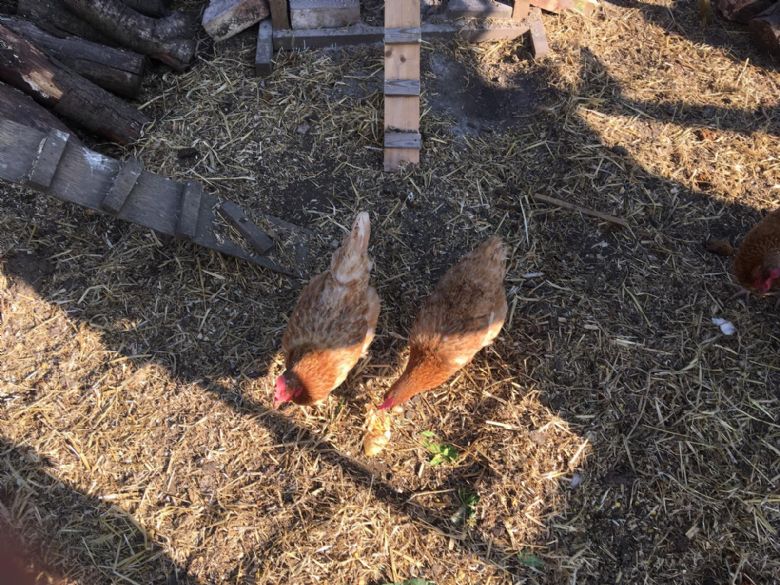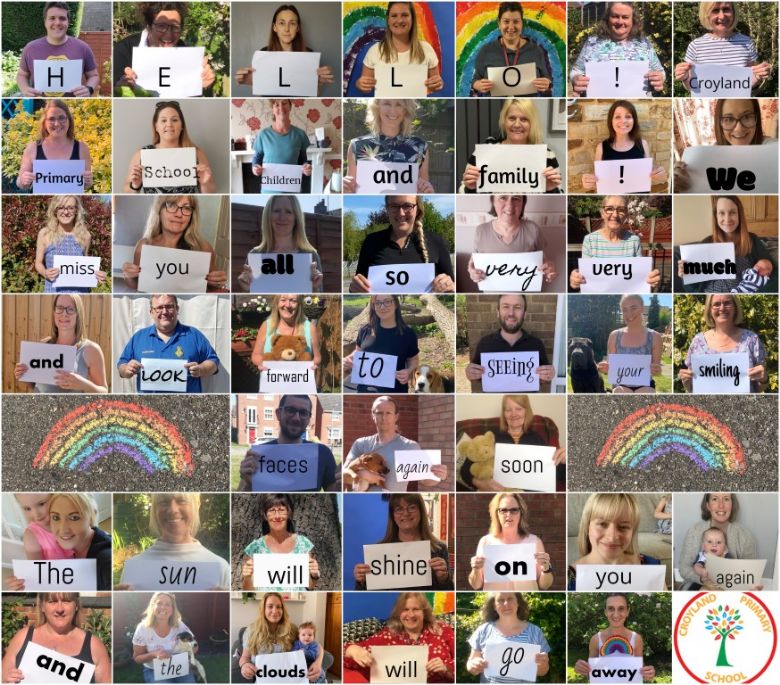 Friday 24th April 2020
Dear All
I have lots to tell you since Monday and I've done it through a video. I have two new pets. They are just bundles of fluffy feathers but I adore them. This weekend I'm going to build them a bigger roosting box so all five can happily lay their eggs together. I'll take a picture for Monday.
I'm also so thankful for your rainbows. I think they look great on display together. I spent time doing this yesterday as I was fed up with a blank wall on my way to the staff room. I'm now a smiling headteacher. You are all so creative.
Enjoy your weekend – I'm busy sorting and training feathered children!!!
Miss Deakin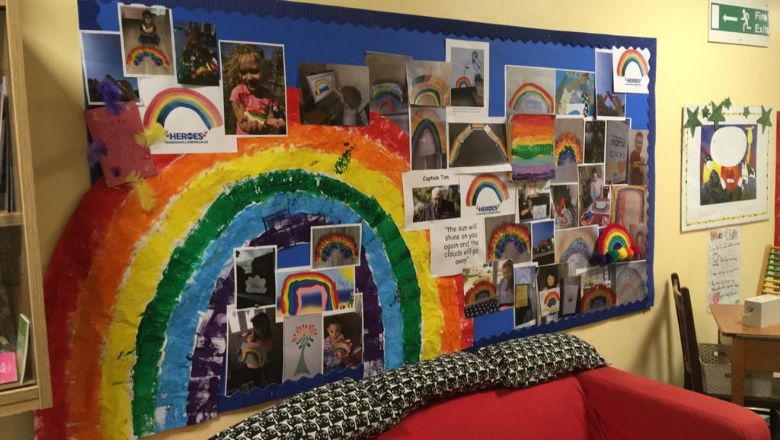 Thursday 23rd April
Good morning everyone. Hope you are all OK on this fine and sunny morning?
I was out walking with my dog Arnie at 6.30am this morning. He is my alarm clock but he needs to reset it for a little bit later I think!!!
It was a beautiful morning and I really got to appreciate the beauty of the outdoors. I was so happy to find some bluebells on my walk.
I hope you are enjoying the lovely weather and managing to get outside in the sunshine.
I have attached a few pictures of my lovely walk....and continue the dog theme from Mrs Collins yesterday.
Arnie says happy 'woofy' birthday to Lola.
I thought I would send you a Nature Scavenger Hunt for you to do when you are out and about on your walk or even when you are in your garden.
L'arc en ciel (KS2 Nurture) enjoyed doing this last year. I miss being out with them all.
Mrs Sawford misses you all and she has asked me to send you some more ideas for relaxing so I have attached the webpage below:-
She said to try the 5 Fun Mindfulness Activities for children.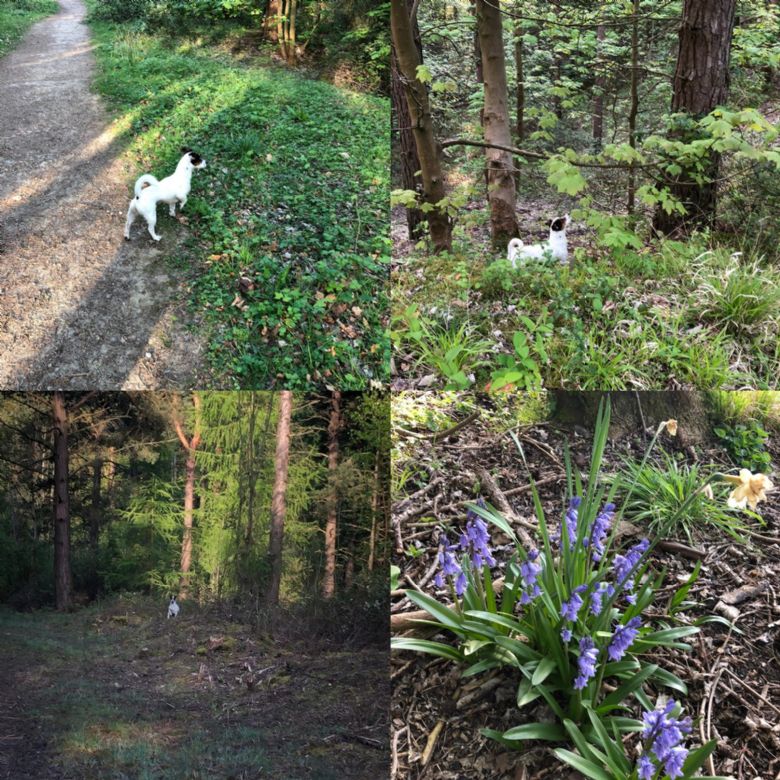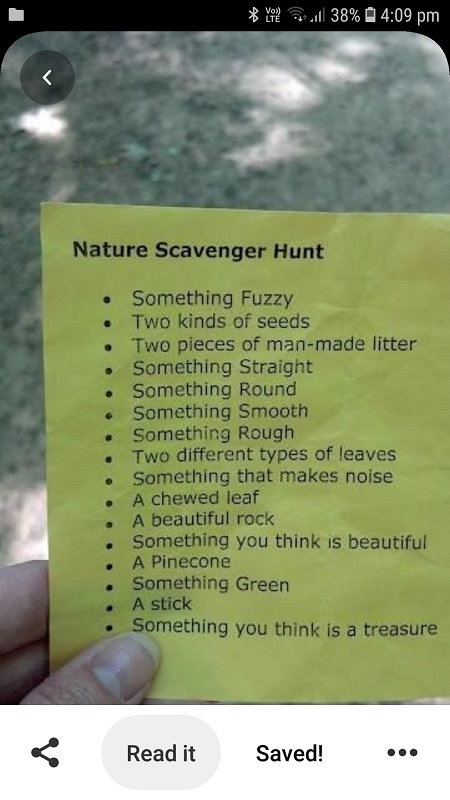 22nd April 2020
Hello all of you lovely Croyland children.
Today is my dog Lola's 8th birthday. As we are all at home we made a special fuss of her. Yesterday we spent some time making some birthday decorations, and some homemade dog biscuits and 'cake' ready for her to enjoy today! Later on today we will go on our daily exercise walk to her favourite field near our house.
Whilst it feels funny for us to be at home, it also strange for our pets too. They might be used to more peace and quiet in the house when their humans are all out at work or school, they may be having fewer walks, socialising less with other dogs when they are out, or like my dog, desperately in need of a trip to the groomers!
If you have a pet at home, use this extra time at home to give them lots of fuss and love.
Send me pictures of your pampered pets when you email your teachers!
Mrs Collins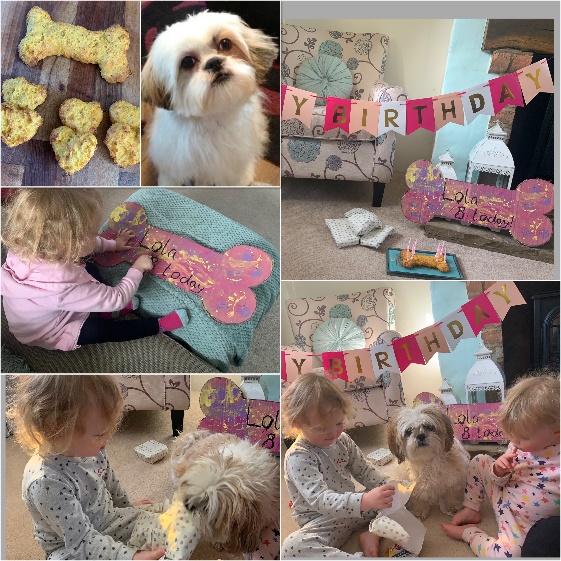 21.4.20
Hi everyone, I hope you are all well and keeping safe.
I am busy home schooling my two boys at the moment and we have found two great websites for you to have a look at this week. The first is great if you are a Harry Potter fan as this website is offering free audio versions of the stories so you can play whilst listening to a story at the same time! Have a look at https://www.wizardingworld.com/news/introducing-hp-at-home for the links to the audio books.
If you fancy yourself as an illustrator have a look at this website that is running a competition https://www.booktrust.org.uk/books-and-reading/have-some-fun/competitions/win-an-original-drawing-by-ed-vere-plus-a-set-of-signed-books/. The deadline for the competition is July 24th so you've got plenty of time to enter.
If drawing isn't your strong point then have a look at some of the other competitions that Book Trust are running at https://www.booktrust.org.uk/books-and-reading/have-some-fun/competitions/ to win some great prizes. Good luck!
Take Care
Mrs Toyer
20.4.20
I hope you all enjoyed watching my chickens bathing. They make me smile by their daily mischief. They are now digging up the vegetables that I am planting out. They don't seem very bothered by my cross voice!
Your teachers are busy trying to make home learning as easy and straight forward as it can be for you. Do email them if you are finding something tricky or you just want to share what you have been up to. I would like you to share your rainbows. My display board is filling up nicely and making me happy. I hope you have enjoyed watching Captain Tom raise so much for the NHS. I have added his picture to the rainbow board. He definitely has the C Factor.
Wishing you all well.
Miss Deakin
06.04.20
Happy Holidays Croyland Children.
Don't forget to keep yourself clean just like my little hens!
Miss Deakin.
03.04.20
Dear All
It is very cold in my office today and I am so looking forward to the promised sunshine of Sunday.
The Easter holidays officially start today and Mrs Jardine leaves us today to prepare for the arrival of her baby. We know she is having a little boy but she has kept any possible names a secret. I will let you as soon as she tells me.
Thinking about things to keep you busy over the next weeks, when I was little , we boiled eggs in onion skins and beetroot to change the colour of the shells. We also rolled our hard boiled coloured eggs down a hill; the egg that didn't crack or break was awarded the Easter bunny award. I don't know if you know this word but we call hard boiled eggs PACE eggs. If you create any super colours, please send your photos in via email to your class teacher.
Happy Easter Croyland Children.
Miss Deakin
01.04.20
Morning all
Pinch, Punch, first day of the month.
Also it is April Fools Day today. Have you played any tricks?
Working from home today. I look out of my kitchen window and despite it looking a bit grey today I am hopeful the sun will come out to brighten our day.
Today is Wednesday and as you know that is usually our KS2 Nurture day (mine and Mrs Sawford's) and as you know we love to do outdoor stuff. Our happiest day at Croyland is always a Wednesday when we can get our wellies on and go outside (come rain or shine)
Well today Mrs Sawford has asked me to share a couple of activities with you. Similar to ones we would do with our nurture groups.
The first is to create a bug hotel in your garden:-
https://www.backyardnature.org/wp-content/uploads/2020/02/E02516276-ICL-Back-Yard-Nature-Bug-Hotel-Nov19_V6_PRINT-1.pdf.
The second activity is one for relaxation once you have been busy building your bug hotels and need some down time. Adults can join in too.
http://www.nurtureuk.org/sites/default/files/the_relaxation_script_1.pdf
We hope you enjoy these activities and have lots of bugs visit your hotel.
Happy Bug Hunting!!!!
Signing out
Mrs Jeffs (and Mrs Sawford)
31/03/20
Hello everyone
What are you reading? I am using some of this extra time to read more. My little girls are both enjoying Anthony Brown books at the moment. We spend lots of time looking at the details in the pictures of his stories. So far, we have read:The Tunnel, Little Beauty, Gorilla, Willy the Dreamer, and Zoo. Do you recommend any others?
I have also ordered a copy of Holes by Louis Sachar. I know a few of you have read this book and have really enjoyed it, so I thought I would give it a go.
It's also nice to have somebody read to you. David Walliams always makes me laugh and he reads his books so well. Have a look here and you can hear him reading a different book everyday:
https://www.worldofdavidwalliams.com/elevenses/
Do let me know if you can recommend any great books for me to read!
Mrs Collins :)
30/3/2020
Good afternoon everyone
What lovely weather we have had! Fingers crossed that this week will be the same albeit a little cooler. It's been nice to get out in the garden and do some learning outside. I have loved seeing your pictures and videos of you in your gardens, completing obstacle courses, gardening and craft activities in the sunshine.
We have been doing some cosmic yoga this week, there are lots of different fun themes to choose from but my little boys love the Minecraft and Pokemon yoga the best so please have a look at the link below if you would like to give it a go too. (It's also great for mums and dads that may be a little bit sore after a week of Joe Wicks!)
https://www.youtube.com/user/CosmicKidsYoga
Please keep your learning tasks and pictures coming though, it's lovely to see your smiling faces and makes all the teachers very happy as we all miss you lots.
Hope you enjoy the yoga!
Mrs Toyer
27.03.20
Dear All
I am thoroughly enjoying seeing your work. Your teachers keep sending me bits and bobs though. I am particularly enjoying the Yr. 5 Art.
I thought I'd share with you today a film I made yesterday of my hobby; being a hen mummy. They are three crazy girls that need a lot of looking after!
I thought you could make a film of you doing your hobby. Send it through to your teacher and they will send it on to me. I can't wait to see what you all get up to!
Miss Deakin
26.03.20
Good Morning everyone
I am currently sitting in school and can hear the birds singing. I miss the sound of children laughing and playing but the feel of Spring is very calming.
On my drive into work and when I walk my dog Arnie with my children I feel appreciative that Spring and the warmer weather is finally here..
When you are in your garden or taking your daily exercise take a minute to close your eyes to listen, feel and smell the wonders that Spring brings (this is called being Mindful).
An activity myself and Mrs Sawford love to do this time of year with our KS2 Nurture group (which interestingly is called L'arc en ciel which is French for rainbow) is a 'Rainbow Spring walk'. It is quite simple:-
Draw a dot on a piece of paper (going down the page) the size of a 1p coin for each of the colours of the rainbow (red, orange, yellow, green, blue, indigo and violet). Then collect a leaf or petal for each of the colours (or more if you can find them) and create a natural rainbow of Spring. Enjoy and please share if you have a go.
I am sending you my rainbow which was taken at Twywell last Friday when I was walking my dog.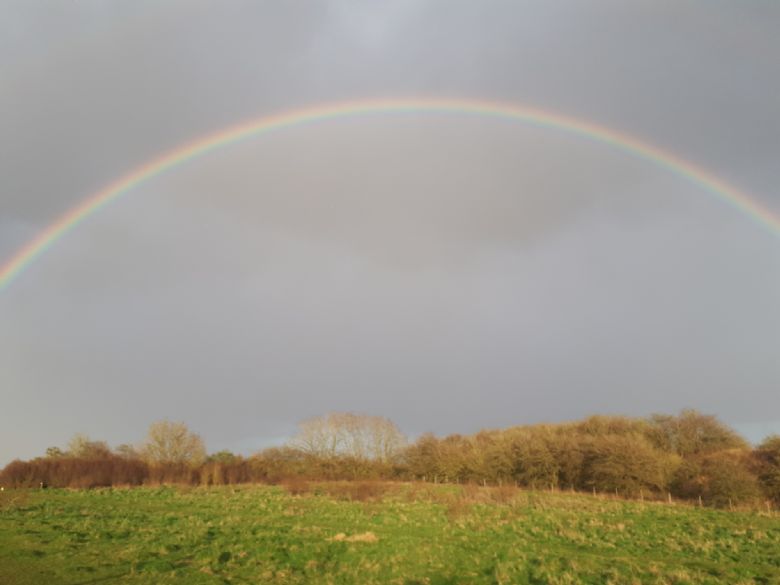 Stay Safe
Missing you all
Mrs Jeffs
25/03/20
Hello everybody :)
Your teachers are so thrilled when you send them an email or picture. They share these with all of us as we all miss seeing you everyday!
Have you made a rainbow yet to put on the window of your house or flat? My little girls made theirs yesterday; we are going on a walk around our local neighbourhood later today to find some more. Our government have told us we can go out for one exercise walk a day, so that's we do, whilst being careful not to be too close to anyone who doesn't live in our house. Lola the dog comes too!
I hope that you are enjoying your daily story. Today I am reading Love Monster and the Last Box of Chocolates. I love this story, and there is now a whole Love Monster series on CBEEBIES.
Have a lovely day,
Mrs Collins
24/03/20
Good morning Croyland Primary School
I am sitting at my desk and the school is very very quiet. I am thrilled with your positive start to day 1 of working at home. Your teachers have forwarded me the pictures of you being ever so busy. Please keep sending in your photos; teachers are sharing them with one another via their emails. You are bringing smiles to us all.
Mrs Collin, Mrs Toyer, Mrs Jeff s and I have decided that we don't want to be left out of class pages, so we have created our own and we will take it in turns to add something enjoyable for you to watch, do or think about.
Even though we are not physically together, we are together!!
I thought I would start by sharing with you my favourite poem from my childhood. I learnt it in primary school. It was published in a book of poems called "when we were young" in 1924. It was already an old poem when I was at school before you ask!
The author was AA Milne. He also wrote Winnie the Pooh .
I have found it on you tube for you to watch. The muppet version is my favourite
https://www.youtube.com/watch?v=1BTXQk7Gv8c
https://www.youtube.com/watch?v=ye2uBSqGDjo
I am like the king! I don't like marmalade on my toast. Only butter, banana and raspberry jam. I am a fussy lady!! Some people learn this as an "off by heart poem". Have ago with you and your family acting it out. If you film it, send it in via the school email for me to see.
Have a good day.
Miss Deakin.
Hello everyone, I hope that you are all keeping busy with your home learning tasks and keeping yourself healthy by being active, eating lots of healthy foods and remembering to wash your hands regularly.
I am at home too with my two little boys busy doing lots of reading, TT Rockstars, Spelling Shed alongside all of the fun activities that their teachers have set them. We are also enjoying the Joe Wicks session every morning followed by the daily writing challenge set by Jane Considine, please see the links below if you want to join in too.
My little boys have been very worried about the Coronavirus and all of the changes are happening so we found a book which made them feel a little better which I have shared below. Please have a read and I hope this helps you too. Older children, maybe you could read it to younger siblings to help them know how to keep safe and take care during this difficult time.
Speak to you soon
Mrs Toyer
https://nursedottybooks.files.wordpress.com/2020/03/dave-the-dog-coronavirus-1-1.pdf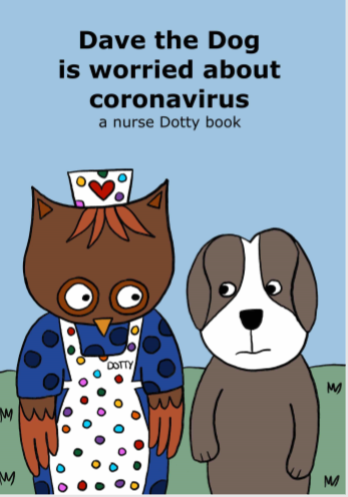 Joe Wicks – The Body Coach – Kids workouts to do at home
https://www.youtube.com/playlist?list=PLyCLoPd4VxBvPHOpzoEk5onAEbq40g2-k
Jane Considine- Sentence Stacking- Subscribe to the Youtube channel for daily lessons