Home Learning.
We would love to hear from you as often as possible so please get in touch by emailing any work you have done or just to tell us what you have been doing. We will check our emails daily, if you have any questions or concerns regarding school work please don't hesitate to contact us.
CPSMrsCarroll@croylandprimary.org.uk For Mrs Carroll's class
CPSshirtcliffe@croylandprimary.org.uk For Mr Shirtcliffe's class
22/05/20
Happy Friday Year 4!
We hope you have all had a good week, enjoyed your home learning tasks and have also managed to enjoy some time outside in the sunshine.
It is half term next week so there will not be any home learning tasks for you to complete but please do keep sending is your emails with your work, any questions you may have or to say hi! Monday is also a bank holiday so we hope you have a lovely time with your families. While you do not have home learning tasks to complete next week we would still love to hear from you so please let us know what you are getting up to.
Enjoy your half term week and continue to stay safe
Mr Shirtcliffe and Mrs Carroll
21/05/20
Good morning Year 4
What have you been up to this week? Have you done something different or learned something new? Let us know, we love to hear what you have been doing with your time, especially in this lovely weather.
We have loved getting your emails this week of your Science work as well as the other work you have been completing so well done! Keep those emails coming and remember to send us photos of Miss Deakin's 2 metre task!
Try the challenge below to get your brain working, ready for today's work. Email your teacher with your thoughts,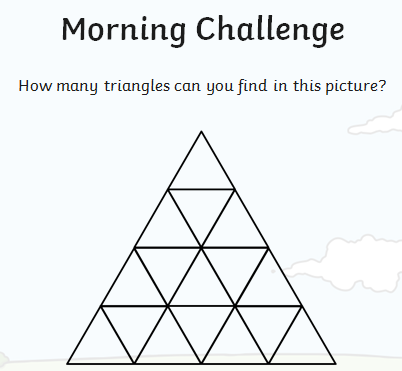 Stay safe,
Mrs Carroll and Mr Shirtcliffe
20/05/20
Happy Hot Wednesday Year 4!
Hi everyone, we hope you have all had a good week so far and have been enjoying the lovely weather. It is going to be hot today so hopefully you can get outside and enjoy the sunshine but make sure you are being safe and have also got plenty of sun cream on!
Let your teachers know how this week's home learning tasks are going. What have you found easy? What has been a challenge? What have you been most enjoying?
Have you seen the latest video of the adults at Croyland showing what they have been doing during lockdown? Let us know what you thought.
Take care and stay safe,
Mr Shirtcliffe and Mrs Carroll
19/05/20
Morning Year 4
I don't know about you but we are really enjoying the good weather and it's only going to get hotter this week so remember to drink plenty and put your sun cream on if you are out enjoying it!
As you are working your way through the home learning tasks we have set, don't forget to let us know how you are getting on and what you think of the tasks we have set.
Remember also to take a look at Miss Deakin's page and her message for this week - have you found a way to show us what 2 metres looks like? We'd love to see your ideas
Take care and enjoy the sunshine
Mrs Carroll and Mr Shirtcliffe
18/05/20
Happy Monday Morning Year 4!
It is the start of another week and that means your home learning tasks have been updated. Along with your maths, writing and reading activities there is also a science project to complete over the week that links to our most recent topic on Living Things and Their Habitats. The weather is going to be lovely this week which will be great for completing your learning outside if possible – it will certainly help with your science work!
Remember to also keep playing TT Rockstars and Spelling Shed – we will once again list the top players for each class at the end of the week. Also, keep emailing your teachers with your work, any questions you may have or let us know what else you have been up to keep yourself busy.
Lastly – take a look at Miss Deakin's message from Friday 15th May about social distancing – let us know what ideas you come up with to help you think about how far 2 metres is. You can see Miss Deakin's message here - https://www.croylandprimary.co.uk/page/?title=Miss+Deakin%2FSchool+Leaders+Keeping+in+touch&pid=2357
Enjoy the sunshine and remember stay safe,
Mr Shirtcliffe and Mrs Carroll