Home Learning - Keeping in touch
06.04.20
Happy Holidays Croyland Children.
Don't forget to keep yourself clean just like my little hens!
Miss Deakin.
03.04.20
Dear All
It is very cold in my office today and I am so looking forward to the promised sunshine of Sunday.
The Easter holidays officially start today and Mrs Jardine leaves us today to prepare for the arrival of her baby. We know she is having a little boy but she has kept any possible names a secret. I will let you as soon as she tells me.
Thinking about things to keep you busy over the next weeks, when I was little , we boiled eggs in onion skins and beetroot to change the colour of the shells. We also rolled our hard boiled coloured eggs down a hill; the egg that didn't crack or break was awarded the Easter bunny award. I don't know if you know this word but we call hard boiled eggs PACE eggs. If you create any super colours, please send your photos in via email to your class teacher.
Happy Easter Croyland Children.
Miss Deakin
01.04.20
Morning all
Pinch, Punch, first day of the month.
Also it is April Fools Day today. Have you played any tricks?
Working from home today. I look out of my kitchen window and despite it looking a bit grey today I am hopeful the sun will come out to brighten our day.
Today is Wednesday and as you know that is usually our KS2 Nurture day (mine and Mrs Sawford's) and as you know we love to do outdoor stuff. Our happiest day at Croyland is always a Wednesday when we can get our wellies on and go outside (come rain or shine)
Well today Mrs Sawford has asked me to share a couple of activities with you. Similar to ones we would do with our nurture groups.
The first is to create a bug hotel in your garden:-
https://www.backyardnature.org/wp-content/uploads/2020/02/E02516276-ICL-Back-Yard-Nature-Bug-Hotel-Nov19_V6_PRINT-1.pdf.
The second activity is one for relaxation once you have been busy building your bug hotels and need some down time. Adults can join in too.
http://www.nurtureuk.org/sites/default/files/the_relaxation_script_1.pdf
We hope you enjoy these activities and have lots of bugs visit your hotel.
Happy Bug Hunting!!!!
Signing out
Mrs Jeffs (and Mrs Sawford)
31/03/20
Hello everyone
What are you reading? I am using some of this extra time to read more. My little girls are both enjoying Anthony Brown books at the moment. We spend lots of time looking at the details in the pictures of his stories. So far, we have read:The Tunnel, Little Beauty, Gorilla, Willy the Dreamer, and Zoo. Do you recommend any others?
I have also ordered a copy of Holes by Louis Sachar. I know a few of you have read this book and have really enjoyed it, so I thought I would give it a go.
It's also nice to have somebody read to you. David Walliams always makes me laugh and he reads his books so well. Have a look here and you can hear him reading a different book everyday:
https://www.worldofdavidwalliams.com/elevenses/
Do let me know if you can recommend any great books for me to read!
Mrs Collins :)
30/3/2020
Good afternoon everyone
What lovely weather we have had! Fingers crossed that this week will be the same albeit a little cooler. It's been nice to get out in the garden and do some learning outside. I have loved seeing your pictures and videos of you in your gardens, completing obstacle courses, gardening and craft activities in the sunshine.
We have been doing some cosmic yoga this week, there are lots of different fun themes to choose from but my little boys love the Minecraft and Pokemon yoga the best so please have a look at the link below if you would like to give it a go too. (It's also great for mums and dads that may be a little bit sore after a week of Joe Wicks!)
https://www.youtube.com/user/CosmicKidsYoga
Please keep your learning tasks and pictures coming though, it's lovely to see your smiling faces and makes all the teachers very happy as we all miss you lots.
Hope you enjoy the yoga!
Mrs Toyer
27.03.20
Dear All
I am thoroughly enjoying seeing your work. Your teachers keep sending me bits and bobs though. I am particularly enjoying the Yr. 5 Art.
I thought I'd share with you today a film I made yesterday of my hobby; being a hen mummy. They are three crazy girls that need a lot of looking after!
I thought you could make a film of you doing your hobby. Send it through to your teacher and they will send it on to me. I can't wait to see what you all get up to!
Miss Deakin
26.03.20
Good Morning everyone
I am currently sitting in school and can hear the birds singing. I miss the sound of children laughing and playing but the feel of Spring is very calming.
On my drive into work and when I walk my dog Arnie with my children I feel appreciative that Spring and the warmer weather is finally here..
When you are in your garden or taking your daily exercise take a minute to close your eyes to listen, feel and smell the wonders that Spring brings (this is called being Mindful).
An activity myself and Mrs Sawford love to do this time of year with our KS2 Nurture group (which interestingly is called L'arc en ciel which is French for rainbow) is a 'Rainbow Spring walk'. It is quite simple:-
Draw a dot on a piece of paper (going down the page) the size of a 1p coin for each of the colours of the rainbow (red, orange, yellow, green, blue, indigo and violet). Then collect a leaf or petal for each of the colours (or more if you can find them) and create a natural rainbow of Spring. Enjoy and please share if you have a go.
I am sending you my rainbow which was taken at Twywell last Friday when I was walking my dog.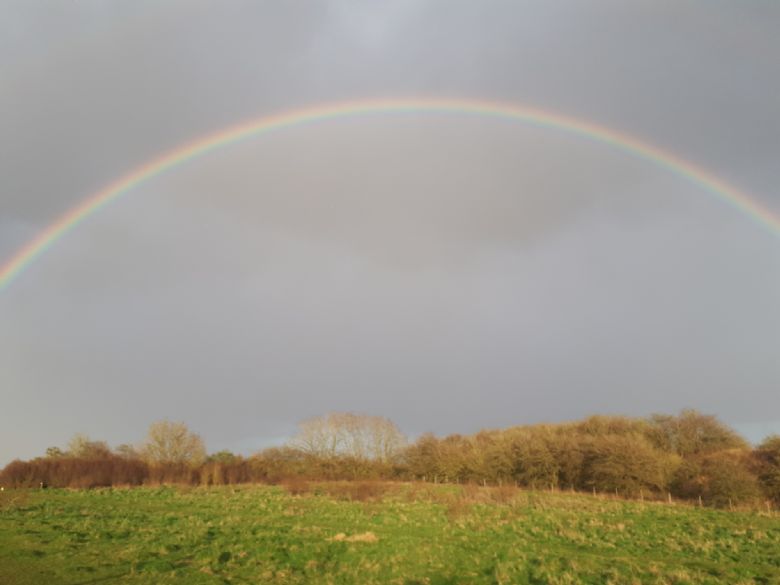 Stay Safe
Missing you all
Mrs Jeffs
25/03/20
Hello everybody :)
Your teachers are so thrilled when you send them an email or picture. They share these with all of us as we all miss seeing you everyday!
Have you made a rainbow yet to put on the window of your house or flat? My little girls made theirs yesterday; we are going on a walk around our local neighbourhood later today to find some more. Our government have told us we can go out for one exercise walk a day, so that's we do, whilst being careful not to be too close to anyone who doesn't live in our house. Lola the dog comes too!
I hope that you are enjoying your daily story. Today I am reading Love Monster and the Last Box of Chocolates. I love this story, and there is now a whole Love Monster series on CBEEBIES.
Have a lovely day,
Mrs Collins
24/03/20
Good morning Croyland Primary School
I am sitting at my desk and the school is very very quiet. I am thrilled with your positive start to day 1 of working at home. Your teachers have forwarded me the pictures of you being ever so busy. Please keep sending in your photos; teachers are sharing them with one another via their emails. You are bringing smiles to us all.
Mrs Collin, Mrs Toyer, Mrs Jeff s and I have decided that we don't want to be left out of class pages, so we have created our own and we will take it in turns to add something enjoyable for you to watch, do or think about.
Even though we are not physically together, we are together!!
I thought I would start by sharing with you my favourite poem from my childhood. I learnt it in primary school. It was published in a book of poems called "when we were young" in 1924. It was already an old poem when I was at school before you ask!
The author was AA Milne. He also wrote Winnie the Pooh .
I have found it on you tube for you to watch. The muppet version is my favourite
https://www.youtube.com/watch?v=1BTXQk7Gv8c
https://www.youtube.com/watch?v=ye2uBSqGDjo
I am like the king! I don't like marmalade on my toast. Only butter, banana and raspberry jam. I am a fussy lady!! Some people learn this as an "off by heart poem". Have ago with you and your family acting it out. If you film it, send it in via the school email for me to see.
Have a good day.
Miss Deakin.
Hello everyone, I hope that you are all keeping busy with your home learning tasks and keeping yourself healthy by being active, eating lots of healthy foods and remembering to wash your hands regularly.
I am at home too with my two little boys busy doing lots of reading, TT Rockstars, Spelling Shed alongside all of the fun activities that their teachers have set them. We are also enjoying the Joe Wicks session every morning followed by the daily writing challenge set by Jane Considine, please see the links below if you want to join in too.
My little boys have been very worried about the Coronavirus and all of the changes are happening so we found a book which made them feel a little better which I have shared below. Please have a read and I hope this helps you too. Older children, maybe you could read it to younger siblings to help them know how to keep safe and take care during this difficult time.
Speak to you soon
Mrs Toyer
https://nursedottybooks.files.wordpress.com/2020/03/dave-the-dog-coronavirus-1-1.pdf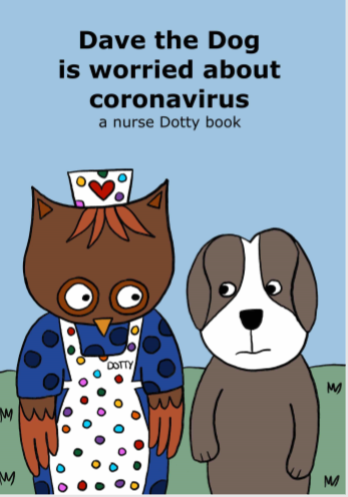 Joe Wicks – The Body Coach – Kids workouts to do at home
https://www.youtube.com/playlist?list=PLyCLoPd4VxBvPHOpzoEk5onAEbq40g2-k
Jane Considine- Sentence Stacking- Subscribe to the Youtube channel for daily lessons