Extended Services
Childcare and the Extended Day
The Extended Service Provision at Croyland Primary School offers care for up to 24 children at Breakfast Club, After-School Club and Holiday Club. Operating in a spacious, air conditioned, open plan building in the grounds of the school, the provision offers a safe and secure environment allowing children to have the freedom to enjoy and learn from the wide variety of quality resources and equipment that provides a balanced range of activities for children to choose from.
Breakfast Club opens at 7:45am to children. Breakfast and free flow play opportunities are provided. The children are escorted and signed into school at 8:45am. The cost to the parents is £4.00 per child, per breakfast session.
After School Club opens at 3:20pm and provides childcare until 6:00pm. The cost to the parents is £7.50 per child, per session. The children are provided with a snack and engage in a variety of play activities both inside and outside the cabin.
The Holiday Club operates from 7:45 am – 6:00pm during school holidays within the exception of National Holidays; Children can attend either in the morning, afternoon or both. Children are expected to provide their own packed lunch but snacks and drinks are available throughout the day. The cost varies from £14.50 – £25 per day depending on the number of sessions required by parents.
"It is fun to play outside after school and get some fresh air."

T.B Year 3
"I like the junk box because I can make things and paint them."

L.J Year 4
Enrichment Activities
In addition to our child care facility, school staff provide a variety of afterschool clubs. We endeavour to respond to the requests of the children which are made through the School Council. Clubs to date include, Table Tennis, Street Dance, Football, Stay & Play, Gardening, Film Club, ICT and America Link, Drama and a weekly afterschool visit to the town library.
"We play table tennis afterschool during the week. We have four inside tables and two outside tables. We practise with Mr Williams and Mr Banister and our school team is unbeaten!"

CE & AG Year 5
"We love going to the library on a Friday because I can take out lots of books to read at home."

NZ Year 5
"I like reading in the quiet so the library is a good place."

JW Year 5
To view our Out Of School Contact please use the following link:
Out of School Contact
Opportunity Plan for Week Commencing 07/03/2022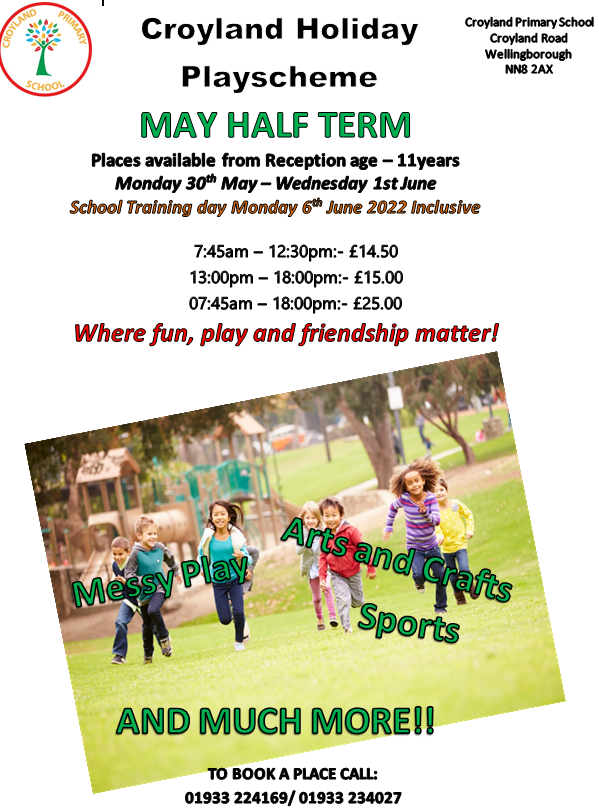 Extended Services Contact Details
Michelle Kirkwood
Extended School Manager
Croyland Primary School
Croyland Road
Wellingborough NN8 2AX
tel: 01933 224169 / 01933 234027
mobile: 07765779794
Please use the following link to make a booking and pay for Breakfast and After School Club: www.parentpay.com