Coronavirus Update

Wednesday 18th November 2020
Dear Parents and Carers,
As we approach the half way point of a second lockdown, it has been reported to the Governing Body that, despite many polite requests, a number of parents are refusing to wear a face mask when on the school site.
As the Chair of Governors, I am writing to remind you all that the school site is private property where visitors to it must comply with the directives that are set or, unfortunately, that access may be denied.
Miss Deakin and the school leaders have set out considered rules regarding access to the school playground during this current Covid climate. Sadly, these have been met by some with aggression and verbal abuse to the very people who are trying to ensure the health and safety of all at the school. This should not and will not be tolerated. As a reminder, only one person should enter the school grounds to drop off/pick up children, face masks should be worn and a social distance of 2 metres from other people must be maintained. These rules are only as per those issued for any other public place.
We acknowledge that Government guidelines do not require masks to be worn when in outdoor spaces, but as stated the grounds are private and the Governing Body are in full support of these decisions in playing our part in reducing the Covid transmission in school and the wider community.
We have read widely and are confident that face masks do form an extra layer of protection, hence our insistence on them being worn. The below, as part of scientific research from Professor Paul Digard of the University of Edinburgh, draws attention to several valid points:-
- "Face masks will still make a positive difference when worn, even outside in well ventilated areas. The reason: virus containing droplets from the respiratory tract come in a range of sizes and probably all carry a risk of transmitting the disease"
- " Ventilation helps disperse the droplets that float around but not so much the spread of larger droplets - think of someone sneezing in front of you without covering their face. Indoors or outdoors a mask on a sneezer, cougher or even speaker will stop this very effectively, reducing the risk of transmission"
Our greatest challenge is that many people who have tested positive had no idea, did not feel poorly or seem to possess any symptoms. They were in fact going about their daily life and actually were spreading the disease without knowledge. This is, unfortunately, a frightening part of the issue.
To those adhering to the rules I pass on thanks for your compliance and support. To those not doing so, be reminded that this could have an impact on everyone including your own child. If you still refuse to wear a mask you must not enter the school grounds, meaning you will need to drop your child at one of the school gates and allow them to walk in by themselves.
For those who are proven to be exempt from wearing a face mask we would politely ask that you wear one of the designated lanyards, these are available from several local outlets.
Thank you in anticipation of your support in this.
Yours sincerely
Tracy Elliott
Chair of Governors
Wednesday 28th October 2020

Wednesday 28th October
Dear Parents/Carers,
I received this email this morning - this is all new to office staff as well so we are finding our way as you are.
NORTHAMPTONSHIRE COUNTY COUNCIL PROVIDES FREE SCHOOL MEAL VOUCHERS
DURING HALF-TERM BREAK
Northamptonshire County Council has announced it is providing free school meal vouchers to children in the county who qualify for free school meals, during the half-term break. This is being funded using the money received from central government and provided to NCC forCOVID-19-related costs, which includes support for children.
Distribution of the vouchers will only be made to families who have previously applied and have
been deemed eligible for free school meals. The voucher equates to £15 per child.
How does the scheme work?
The scheme is being delivered using an online platform, which will distribute the vouchers directly to
the email addresses of eligible parents. The email will appear in parents' inboxes as a message from
Northamptonshire County Council. Those who are eligible but do not receive this email should visit the Northamptonshire County Council website and complete the eligibility form available as directed.
Where can the vouchers be used?
The vouchers can be used in the following shops:
- Tesco
- Asda
- Morrison's
- Sainsbury's
- Waitrose
- Marks & Spencer
- Aldi
- McColl's
Where do parents go for more information?
How to apply for your supermarket voucher and further information can be found on the NCC website:
https://www.northamptonshire.gov.uk/councilservices/children-families-education/schools-and-education/Pages/free-school-meals-vouchers.aspx
The information below has been shared by a parent.
Regards
Miss Deakin
Head teacher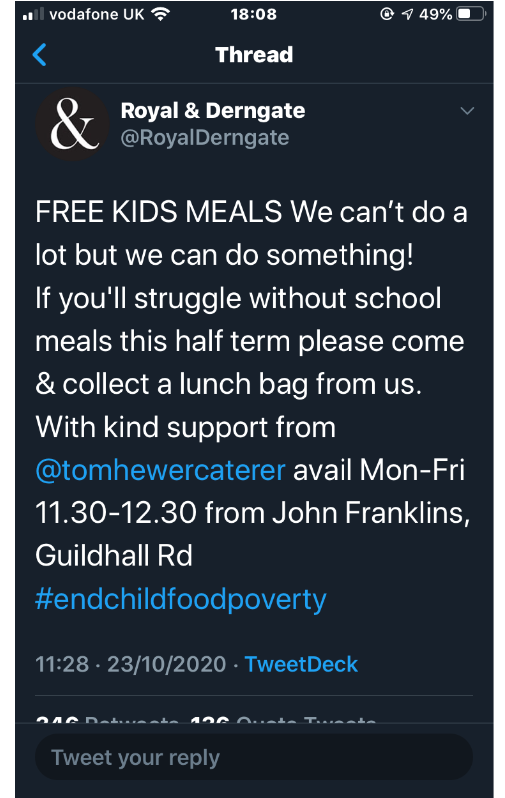 ---
Friday 23rd October 2020

Dear Parents/Carers,
School returns for pupils on Tuesday 3rd November 2020. I am anticipating a challenging second autumn term for us all. For you as parents, managing the seasonal coughs, colds and flu; these bring with them the symptoms that require Covid testing and time away from school while you wait the results. For my staff, the very same reasons apply – too many staff off together, would impact on our school remaining open.
I know that for some of you, this horrid virus has entered your homes and you have been forced to isolate with your child/children. I hope that you have found the online learning and the communication with your child's class teacher helpful and supportive.
We are planning very few changes to our in-school procedures on our return to school on the 3rd November. We are going to maintain temperature checking on entry to school. It provides reassurance to the school community. Please bear in mind that our teachers and teaching assistants are very vulnerable to this virus due to a lack of understanding on how the virus behaves in children.
There is no vaccine to date and how it affects individuals can vary. We are all anxious about our health, as I'm sure you are. Staff have been reassured by the increased number of you that are wearing face masks in the playgrounds, however, they become saddened when they observe a lack of social distancing. The government strap line is 'hands face space'. These three expectations need to be applied together or the virus will spread. There are no other occupations that would bring 30 individuals into a small room where PPE is not statutory. I firmly believe teachers and school staff are the unsung heroes of this time. They cannot work at home, so they are really at the forefront of battle. Please show your support, respect for them and your value for education by doing what we ask.
They are expected to teach and support your children in close range. I ask for them as a collective, that you provide them with reassurance that you value their health and their role as your child's teacher in an extremely worrying time.
If you don't already do so, please wear a mask on the playground, the mask offers greater protection to those you are communicating with. My staff wear their masks when communicating with you; please reciprocate this care and respect.
Having now worked with the Department for Education following a positive Covid case in school, I must inform you that for children in this school, if a child were to test positive, the year group bubble would have to isolate and all of the close friends of the child, whatever year group they may be in.
While all children have their set learning space, their free time is within the year group bubble and it is impossible to identify who they may have close contact with as they engage in play. The challenge here is not only through the school day. I watch our older children come in to school and leave at the end of the day. Their friendship networks are huge. It would be impossible to pin point exactly who they had contact with.
The reality is, one positive child will impact on at least 60 or more children and the 60 families who need to provide childcare while they are unable to attend school.
I hope this makes my point – hand, face, space. We have also received a letter form Public Health Northamptonshire this morning requesting that children's/young people's sleepovers do not take place. This has been the cause of a growth in the virus in our county.
One concern of mine is the early arrival of parents for drops off and picks up at the beginning and end of the day. The school doors open at 8.40. The earliest pick up at the end of the day is 3.05.
The school site cannot be a place for socialising. If you are early, remain in your cars. On return in November, the pathway that joins year 3 to year 5 will simply be a path and there can be no waiting here at the end of the day as it creates a blockage for parents trying to leave.
If you pick up a child from year R, 1 and/or 2 and are waiting for a key stage 2 child, please move into the main playground to wait. There is a greater amount of space here.
As I end this letter I can only thank you for the support you have given to the procedures we have put in place to comply with the government school reopening plan and your kind words and reassurance that staff are "doing a good job".
We can be inspected on our Covid provision at any time. We can't let anything lapse. We respond to new directives as they come to us from the local authority, all with the intention of the continuation of your child's education in this difficult time.
Please do your bit to help keep my staff fit and well and our school functioning through this coming term.
Kind regards,
Miss L Deakin
Head teacher
A translated Polish version is available here. Please click to download
Tuesday 20th October 2020

Tuesday 20th October 2020
Dear Parents/Carers,
I received a phone call this morning informing me that a member of my intervention staff has tested positive for COVID-19.
We called the DFE straight away and shared our situation and they confirmed which staff and children must isolate. It is anyone who has had close contact with the named member of staff two days prior to the onset of their first symptom.
Close contact is defined as anyone, adult or child, who may have had a face-to-face conversation within one metre of the member of staff who has tested positive. Anyone who has sat at the side of her within one metre and anyone who has sat within two metres of her for a period of 15 minutes or more.
All families know if their child has had contact of the type described above. If you have not received a phone call, this situation does not impact you.
These children and staff are now isolating for 14 days. Isolation means that they cannot leave their family home or have anyone visit the house for 14 days.
The rest of the school is and will continue to function as we have done every day since September.
I do appreciate that this is a worrying time for you as parents. Croyland Primary brings 420 pupils and over 90 staff together; hands, face and space is our mantra to the pupils as well as staff. We continue to ask parents to support us on this on the playground and in everyday life in order to minimise transmission.
The member of staff concerned would like to thank you for your kind wishes to her and her family regarding her recovery. She is feeling unwell and we are keeping in close communication with her.
Thank you for your continued support through this very difficult time. For the remainder of this term, we will temperature test each child as they arrive at school as a further precaution.
Kind regards,
Miss Deakin
Head teacher
---

Thursday 8th October 2020
Dear Year 1 parents/carers,
On our return to school in September, we followed the government recommendations with regard to children sitting in rows with less face to face contact.
A month in, and with daily evaluation, we are not convinced that this is the best way to teach your child.
In their Year 1 bubble, the Covid restrictions are beyond their understanding and when we watch them socially, their age appropriate instincts become the norm. They are little magnets, being drawn together.
Ms Beavis and Mrs Coleman are also concerned that rows are not conducive to how the youngest children learn best and how they can teach them effectively. We have therefore made the decision to return to a class arrangement of groups of six desks so that learning can be developed and teaching can be focused on the needs and abilities of the table.
Their hygiene and cleaning procedures are not going to change, simply that their desks will be together rather than in rows.
If you are concerned about this in any way, please see your child's class teacher at the end of the day.
Kind regards,
Miss L Deakin
Head teacher
---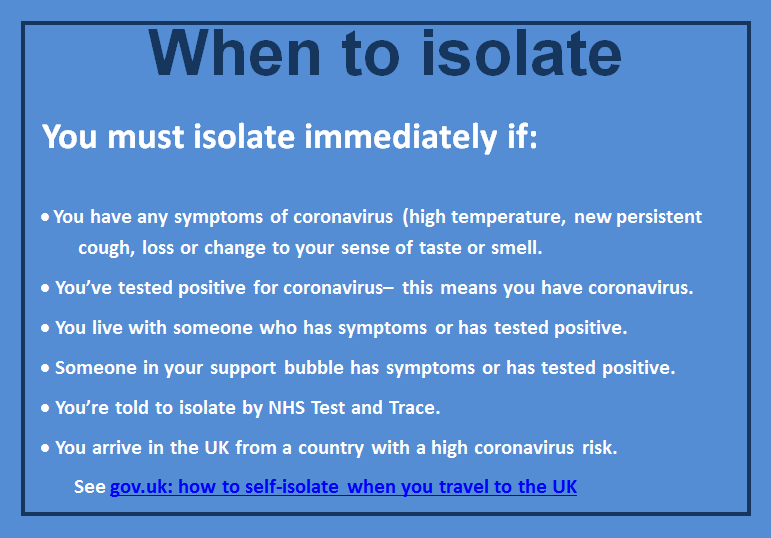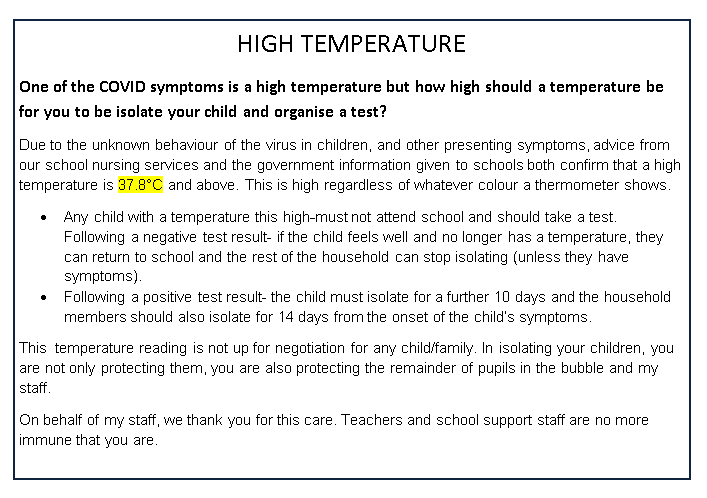 Here is some helpful information that you can refer to for guidance on symptoms and isolating.

Please work with us to keep our school community Covid free and our school open.
With thanks, Lucy Deakin

---
---
---
---
---
---

Friday 18th September 2020
Dear Parents and Carers,
The reality of being in a pandemic is very evident on the inside of school every day; school corridors are quiet, there are various distance measures in place for classroom and support staff and we have children who are isolating and awaiting test results. The wait time for results has increased this week which is frustrating and worrying for us all. Firstly for you if your child is unwell; secondly, knowing the welfare of 29 other families depend on the test result, and finally, for us hoping and praying Covid have not entered the school.
There is so much to read and I'm going to try and simplify for you the information I have as to whether your child can or cannot attend school.
Do not attend:
If you are isolating as a parent because you have symptoms you must request a test. All your children must isolate with you. If your result is positive, your children must isolate for 14 days. If your result is negative, your children can return to school.
If your child has symptoms you must request a test and they must isolate with their siblings until they get a negative test result. Please note, if you cannot get a test on day 5 of having symptoms, this is too late and a 10 day isolation must start. Getting a test is time critical.
If your child has had contact with someone who has tested positive, they must isolate for 14 days to allow the symptoms to show themselves.
If you have had contact with someone who has tested positive, but your child hasn't, they can come to school.
The definition of contact is:
Close face to face contact for any amount of time.
Being within 1-2 metres of someone for more than 15 minutes.
If we have a positive Covid result in school, whether it is a child, their class teacher or class TA, we have to contact Public Health England and implement what they tell us to do. This may mean that the class and/or year group will be sent home for 14 days to isolate. I urge you now, if you work, to make contingency plans for childcare as soon as possible if your employment would be at risk in any way from a 14 day isolation. You may find your child's class being sent home a number of times this year and this would be out of my control.
You, as parents/carers, have this control by how you are following the hands, face and space guidance in your homes and bubbles.
If your child's class is forced into isolation, learning tasks will be provided. These will be linked to the daily learning so education can be continued at home.
If your child's class teacher is forced to isolate because they live in a house with suspected Covid, they will not be allowed into school and will teach remotely into the classroom.
Isolating a class or a year group is such a worry for the leaders of the school; primarily another break in learning but we are genuinely concerned for those of you who are trying to retain your employment while the economy is so vulnerable.
Whatever your own opinions are on Covid, I need you to support my school team and the school community in keeping our school functioning as we need it to. I need you to demonstrate that you are committed to this by following the government guidance. The new government slogan is HANDS, FACE, and SPACE:
Our focus on the playground is space and face.
If you are waiting remain two metres apart. Even in a group bubble the 2m rule is mandatory. Avoid sitting on benches/ school equipment.
As you walk and talk, keep your space. Virus droplets spread through general talk.
Wear a mask. Contain virus droplets.
To reduce the number of possible contacts on the site, only one person is required to pick up a child - this is a parent or older sibling NOT both. The number of additional people is overwhelming for many parents as it is unnecessary contact.
At the end of the day, keep your children with you.
Do not let younger siblings use outdoor equipment.
If you find it impossible to comply with the government measures above – points 1 – 6, or do not wish to- arrange to meet your child on the external roads out of school.
There are parents who are so frightened of such an obvious disregard to government guidelines in the school playground that they are keeping their children at home. This is not right or fair. You do not know their stories but your child might be sitting next to their child in class and they have every right to express to us their worries and concerns.
Having to close a year group or the school to prevent further transmission of Covid, after what your children have already been through, would be devastating for all who believe in the benefits of going to school.
In the playground – space/face; keep a 2m distance and (where possible) wear a face mask.
With thanks of your continued support.
Miss Deakin
Headteacher

Wednesday 9th September 2020
Dear Parents/Carers
"We need to act now to stop the virus spreading. So we are simplifying and strengthening the rules on social contact - making them easier to understand and for the police to enforce.
"It is absolutely critical that people now abide by these rules and remember the basics - washing your hands, covering your face, keeping space from others, and getting a test if you have symptoms." Boris Johnson
In light of our Prime Ministers' announcement last night and, as we now enter our second week of return to school; I just want to make clear our expectations regarding the drop off and collection of your children with us
I must say, the mornings are superb; welcoming your children into school is a stress- free and highly pleasurable part of my day. The pick up at the end of the day, where we all seem to have a little more time, remains a worry to me.
Please help us keep Croyland Covid Free by following these safety measures:
Keep your distance from other parents, even if they are close friends.
Wear a face covering if you feel in any way vulnerable.
Keep to the left when walking on paths around school.
Keep single file when walking on paths.
Only send one parent/older sibling to collect a younger child.
Consider where you leave your buggy, as these block entrances and pathways and make the above difficult.
Particularly in the morning, please leave the site after your drop off. If you wish to catch up with friends, use Henshaw Road, Harvey Road and Croyland Road; away from the gated entrances.
If you have an older child – in years 4, 5 or 6 please arrange to meet them in the playground and remind them if you are not there, to return to class. We have high volume areas and we are trying to do our best to address this, without huge changes to our plans.
Please do not arrange to meet older children who are at secondary school on our site. Please meet them on the surrounding roads if they are not able to walk home alone. The school playground is not a meeting place. We have noticed older children returning with friends who were not Croyland pupils. This is not appropriate at all in our current climate.
Please supervise your children at all times. They should not be playing on school equipment while waiting to come in or go home from school.
Please do everything you can to support us at this time to keep our school and your community as safe and well as we can. We all have our parts to play.
With thanks of your continued support,
Miss Deakin
Headteacher
First day back to school

Thursday 3rd September 2020
Dear All
I am writing to thank you for your supportive response to bringing your child into school this morning. On a personal note, your smiles and kind words were very welcomed and warmly received.
I am delighted as we have had a huge return; 96% of the school community! As I peer through doors and windows, we have happy children.
As ever, the team here continuously evaluate the provision we offer and the arrangements we have made. As I have said to staff, a plan on paper is one thing, 420 children arriving with parents on a wet morning, could highlight areas we may have missed.
The school external gates don't open until 8.30 am. I believe there were large groups of parents congregating at Harvey Road and Henshaw Road. If I open the gates earlier, I am simply bringing the problem onto the playground which is not practical. Please think about this when you decide what time you need to leave for school in the morning.
When walking on a path, especially round to the year 1, 4 and 5 entry points, please walk in single file and walk on the left side of the path. This will create an in and out flow and prevent parents and children having to walk on the wet grass.
There were bottlenecks at certain gates that break up the pathway from the year 3 corridor to EYFS. I hope, following today, you will feel comfortable allowing your children who are in Year 3, 4, 5 to walk into school alone. I also ask that you arrange a meeting point with them on the playground for the end of day.
I have been asked by a number of parents to send a request encouraging the wearing of face masks onto the school site. I can't make this compulsory, however, the lack of face masks worn have made some parents feel particularly vulnerable, and as someone who firmly believes in inclusion, we need to consider everyone's needs at this time.
A number of children arrived without water bottles this morning. Your child needs a water bottle at their desk and it must be named. They will be sent home every night for cleaning.
Cycle helmets can be brought into school.
School staff have all worked so hard through the summer to ensure that this day and the weeks that follow give you personal reassurance and the confidence to send your child to school every day.
Government guidance states that adults from different households should be socially distancing (1m+) at all times, as transmission rates are higher in adults than children. Our school staff are following these guidelines in school
I need your help with all of the above, in order to reassure fellow parents and carers that as a community, we are all fully committed to keeping Croyland open and Covid free.
With thanks for your continued support.
Miss Deakin
Headteacher
Return to school for all on 3rd September 2020

Friday 28th August 2020
Dear Parents /Carers
I write on behalf of all my staff when I say, we are all looking forward to next Thursday and the return of all pupils to Croyland. The doors will be open from 8.40 am. In order to maintain the "school bubble", we will return to the system that we used in the week before lockdown, with children being dropped off at their class/year group entrance and parents, for the time being, not coming into the school building.
On Wednesday afternoon, your child's new class teacher will send out a text message with the new class email address. This is purely for important information that cannot be shared quickly as you say goodbye to your child. If something is urgent and private that needs to be shared, please call the school office and a message can be taken by a member of the Senior Leadership Team.
I would like to add at this point, teachers get many emails every day. Their priority in the morning is to ensure that everything is ready for a day of teaching. While their emails are on from the moment they step foot into school, it will not be possible for them to engage in lengthy email replies during the school day. Their priority in the morning is to ensure that everything is ready for a day of teaching. They will be in a better position to respond in detail at the end of the day.
Email communication between parents and teachers have allowed us to keep in touch with children and their activities in a very positive sense through the lockdown, and ensure that we have been able to reach out to many families in a very personable way. I must stress and respectfully ask you to email teachers directly only if this information cannot be shared at the door.
I'm sure, as I am, you are following the news daily for the government responses to Scotland's return to school and advice from the many scientists working on understanding COVID-19. The scientists I listened to this morning, regarding the return of schools and whether face mask wearing was appropriate on not, made it very clear that the risk of children catching COVID-19 in schools is reducing as protective measures against transmission become the norm. There is much debate about face masks.
Whatever I read about making schools safe for children, the three measures below are continually reiterated:
Ensure regular hand washing
Maintain social distancing
Ensure children are in protective bubbles
These bubbles allow us to contain and manage any possible outbreak and maintain the school opening.
I want to assure you that our planning for reopening is underpinned by these three measures. Our children will not be moving around the school. It is only the staff who are allowed to move between year group bubbles and for those who do this as part of their role, they have been instructed to ensure that their hygiene is robust and that, where possible, they maintain a small distance and are very aware of how close they are to our pupils when supporting them.
In preparation for Thursday, I have written a simple list of what you need to know. These are in no particular order.
We have been asked to set up a COVID-19 symptom room. This is separate from the medical room. Any child or adult showing symptoms will be isolated and you will be called. Please ensure that if you have changed your mobile number over the holidays that you let the office know. You are then responsible for taking your child to be tested and informing us of the outcome.
Each bubble class will have a first aid kit to administer basic first aid following any falls during play. First aiders will be called to classrooms rather than children visiting the medical room.
Desks have been arranged in rows so that your child has one or two friends on either side of them.
Windows and doors will be left open to aid ventilation. Teachers will plan for many outdoor activities so please check the weather forecast and send your child to school with appropriate clothing (sun hats/ jackets etc).
Please ensure that your child has a clearly labelled water bottle. This will sit on their desk and must be taken home daily.
Please ensure that your child has a healthy snack/ fruit (no crisps) for morning break.
You must book your child's lunch on ParentPay (from Wednesday 2nd) as you would always do. They will be provided with a hot lunch but the choice will be less.
The school office is only open to one person at a time due to its size. If you need office support, you must wait outside until the person before you leaves or call the school and we can answer your questions over the phone.
The school is closed to all school visitors except the police (or other emergency services), the school nurse and social workers.
School uniform returns with dark coloured, appropriate footwear. Please ensure that your child has a plain outdoor PE kit and appropriate footwear. Please label everything!! The government guidance has removed the need to provide a clean uniform daily.
Each child needs a book bag to carry their reading journal to and from home.
Your child doesn't need any stationery; they will each have a personal pack on their desk.
Breakfast and after school club will open on Thursday 3rd of September. Please book your child in via Mrs Kirkwood if you need this provision.
There will be no Red Carpet assemblies for parents in term 1. We will hold these assemblies via zoom within school. If your child is chosen, they will receive an appropriate reward.
Before your child leaves home in the morning, please check for any of the following symptoms:
A high temperature
A new, continuous cough
A loss of, or change to the sense of smell or taste
If any of these symptoms are evident, do not send your child to school. Report your child's absence on 01933 224169 and report the symptom/s your child is experiencing. You must follow the government advice and arrange for a test which can be done at home or by visiting a testing centre. Please make sure you let us know of the outcome of the test results. Details of testing can be found by visiting https://www.nhs.uk/conditions/coronavirus-covid-19/testing-and-tracing/get-a-test-to-check-if-you-have-coronavirus/
We are a large school and our return to school is such an important event, I'm sure than many of you will want to bring your child into the playground on Thursday and drop them off at their class entry point. I want this to happen, but as parents and carers, I need you to be alert and responsive to the needs and welfare of those you meet on our playground.
The Government message is clear, social distance from others if those around you are not part of a bubble you have created. This is my expectation for the school playground. Be aware of others, maintain a healthy distance, you do not know their circumstances. Keep your children close by and be patient as we welcome your children into school. There is concern that people believe once they are wearing a face mask, social distancing is no longer important, this is providing a false sense of security and couldn't be further from the truth. Please ensure that you implement social distances whether the parent in front of you has a face mask or not.
I am worried about a second wave, local lockdowns in the community and outbreaks in school with staff and pupils being forced to isolate for 14 days.
Please also don't be offended if a member of staff moves back or steps aside from you when you are talking to them. Their welfare is paramount for our school to remain open and they have families too.
A number of parents have asked if they can send their child in with their own hand gel because their skin has grown accustomed to a certain type. This is of course fine; please label their bottle.
I must also ask that if you are entering school by the Harvey Road Gate, please be respectful of our neighbours. They are of an older generation, who are vulnerable to COVID-19. By school being open, their isolation is lessened. There is no place in our school community for parking over drives and rudeness to our neighbours. They are part of our school community.
The school office is open for any questions you have about the return to school next week. Please call 01933 224169, if you are asked to leave a message please do so and one of my team will get back to you as soon as they are able.
Teacher

Class

Drop off/ Pick up

Drop off Time: am

Pick Up Time: pm

Notes

Ms Beavis

1SB

Classroom door

8.40 - 8.55

3.20

Mrs Coleman

1SC

Classroom door

8.40 - 8.55

3.20

Mr Gayton

2SG

Entrance past the hall doors

8.40 - 8.55

3.20

Signage will direct you

Miss Mitchell

2SM

Entrance past the hall doors

8.40 - 8.55

3.20

Miss Carr

3CC

End of Year 3 Corridor

8.40 - 8.55

3.30

Miss Garley

3EG

End of Year 3 Corridor

8.40 - 8.55

3.30

Miss Wright

4LW

Library Hall door

8.40 - 8.55

3.30

Mrs Wright

4SW

Library Hall door

8.40 - 8.55

3.30

Mrs O'Sullivan

5SOS

End of Year 5 Corridor

8.40 - 8.55

3.30

Mr Shirtcliffe

5NS

End of Year 5 Corridor

8.40 - 8.55

3.30

Mr Carroll

6LC

Year 6 Door

8.40 - 8.55

3.30

Mrs Smithies

6ZS

Year 6 Door

8.40 - 8.55

3.30
More information on COVID-19 can be found by visiting www.gov.uk/coronavirus.
I appreciate there is a lot of information here. I hope you have found the audio version supportive.
I look forward to seeing you in the playground as we return to this "new normal".
Yours faithfully,
Miss Deakin
Headteacher